Crypto trading is simply the exchange of cryptocurrencies based on prices determined by market forces. Cryptocurrencies trading is for two main purposes, either to acquire some digital assets or make money.
Cryptocurrency trading is done on different platforms. We have websites, desktop, and mobile applications. Mobile applications stand out because they enable traders to exchange cryptocurrencies on their phone anywhere. Mobile apps also give traders an opportunity to track the market instantly on their device. As a crypto investor, you need a trading application because digital assets are highly volatile which need quick decision making to make the most out of it.
This guide highlights the best crypto apps that stand out in the market. A number of the applications are products of leading trading platforms others are third-party apps and API platforms that connect to several exchanges. However, before settling on any exchange, conduct thorough research to ensure it suits your needs.
Binance
Binance is among the leading cryptocurrency exchanges in terms of users and trading volume. The exchange boasts of low trading charges and an inbuilt ER20-20 token known as Binance coin.
Users on Binance can access services through a desktop application that runs on Windows and MacOS. Additionally, we have a mobile application compatible with Android and iOS.  Binance mobile application has a friendly user interface for easy usage. The app enables users to buy, sell, and view their trade history, open orders, and crypto holdings with their total equivalent value in US dollars. Traders can trade easily using the limit order, market order, and stop-limit functions.
However, professional trading services are not available on the app, one will have to visit the website. Binance app easily passes as the best crypto app because it is fast, easy-to-use and an excellent choice for trading crypto on the move.
Furthermore, users can enjoy more than 350 trading pairs and gives the ability to add favorite trading pairs, providing the user with easy access to them. The Android app can also be downloaded in apk format and from the Play Store. The iOS app can be downloaded from the app store and through Binance website by scanning a QR code.
KuCoin
The KuCoin trading platform targets cryptocurrency trading newcomers.  KuCoin supports a large number of countries around the world such as US, UK, Canada, Japan, Indian, Australia, Singapore. With KuCoin, users can access trading at a 0.1% fee payable through the platform's own token known as KuCoin Shares.  The token runs like a share of KuCoin where holders earn dividends from the company by possessing the token.
KuCoin is accessible through a mobile application compatible with both Android and iOS platforms. Through the app, users have access to the wallet, buy, deposit and withdraw cryptocurrencies. The application also has a user-friendly interface. More than 300 coins are listed on the KuCoin exchange. Furthermore, users with NEO can also earn GAS, a feature not available on many exchanges.
RobinHood
Robinhood is a tool targetting the average person to access financial markets. Under Robinhood, users can exchange US equities and ETFs. In 2018, the service enlisted cryptocurrencies to its services. With Robinhood, trading is commission free and one does not need an account to get started. This feature makes RobinHood one of the best crypto application.
The service has an easy user interface for easy stock and cryptocurrency trading. Users can instantly deposit funds as opposed to waiting for days after selling stocks.
RobinHood services are available on a desktop app and a mobile app on Google Play and Apple App store. For crypto trading, the platform is straightforward that makes it easy for beginners.  Both apps adhere to basic security features like the Know Your Customer.  
Tab Trader
Tab Trader is a free trading terminal for leading crypto exchanges like Coinbase, Binance among others. The service is now available in 178 countries with a user base of 400, 000.
The platform enables a user to participate in crypto trading using a limit order, market order, stop-loss, take-profit and settle position functions over a variety of crypto exchanges.  A standout feature about Tab Trader is that all trading accounts are run from a unified interface. Additionally, Tab Trader has push notifications about price events that work without the need for mobile data.
The API keys are kept on the crypto exchange in an encrypted form. Therefore, users can be sure that no third party has access to their funds. Tab Trader services are available on a mobile application compatible with both Android and iOS. 
Coinigy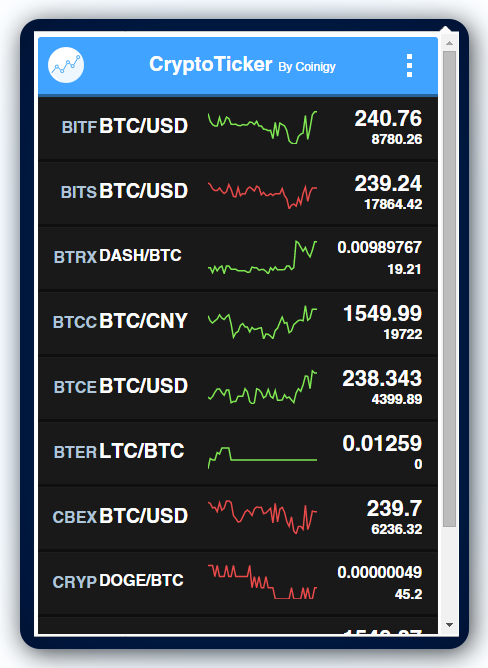 Coinigy is a crypto trading and portfolio management tool with unique features. It's a useful and convenient interface for investors who need to access coins at multiple exchanges. The platform has been expanding and now users have access to more than 45 crypto trading platforms like Binance and KuCoin.
Coinigy services are available on both desktop and mobile applications. The mobile application is on Google Play and the Apple App store. The platform is well designed, organized presenting a large amount of data in an easy to understand manner.
Notably, Coinigy is not a free service. Users will have a free trial period that runs for 30 days. Once this period elapses, a user buys a pro trader status for $18.66 per month. On the other hand, the professional API access is available for $99.99 per month. With the subscription users enjoy unlimited trading with no added charges, high-definition charting, advanced technical analysis tools, and enhanced security.
Conclusion
Crypto trading platforms are on the rise. With the growth of cryptocurrencies, investors are demanding unique features to meet their needs. As a result, innovators are coming up with market solutions.  Note that, not all trading platforms are the same. A majority have their advantages and downside that you should consider before joining.
The covered applications are based on the ease of use and the diverse services they offer. They are among the best crypto apps. However, the list is not exhaustive as we have new products in the market on a daily basis. Always conduct research before settling on any crypto product. Based on minimal regulations, scammers can take advantage of investors without industry knowledge.  
Subscribe to our Newsletter to be a part of our future $1,000 per month contests.
[mailpoet_form id='1']