Litecoin is among the best performing cryptocurrencies at the moment. The asset has emerged to be the most successful fork of Bitcoin. Litecoin embarked on a bullish run in 2019, a trend that can be attributed to the upcoming halving process slated for August. Litecoin halving usually takes place after every four years. The last halving occurred in August 2015 when the network reached 840,000 blocks.  By the time of writing this article, Litecoin was trading at $117 with a market capitalization of $7,271,065,839.
Mining Litecoin in 2019
To mine Litecoin and make a profit, you will need to invest in hardware and other facilities. You need to pay attention to mining pools too. It is worth mentioning that when it comes to Litecoin mining pools, we don't have many options. This is after a number of pools turned out to be scams. In this article, we are looking at the top five best mining pools for Litecoin in 2019. Before selecting a mining pool, factor in things like availability and proximity to your location. Mining returns are lucrative if you settle for a pool near you. Here are the best mining pools for Litecoin in 2019.
Litecoinpool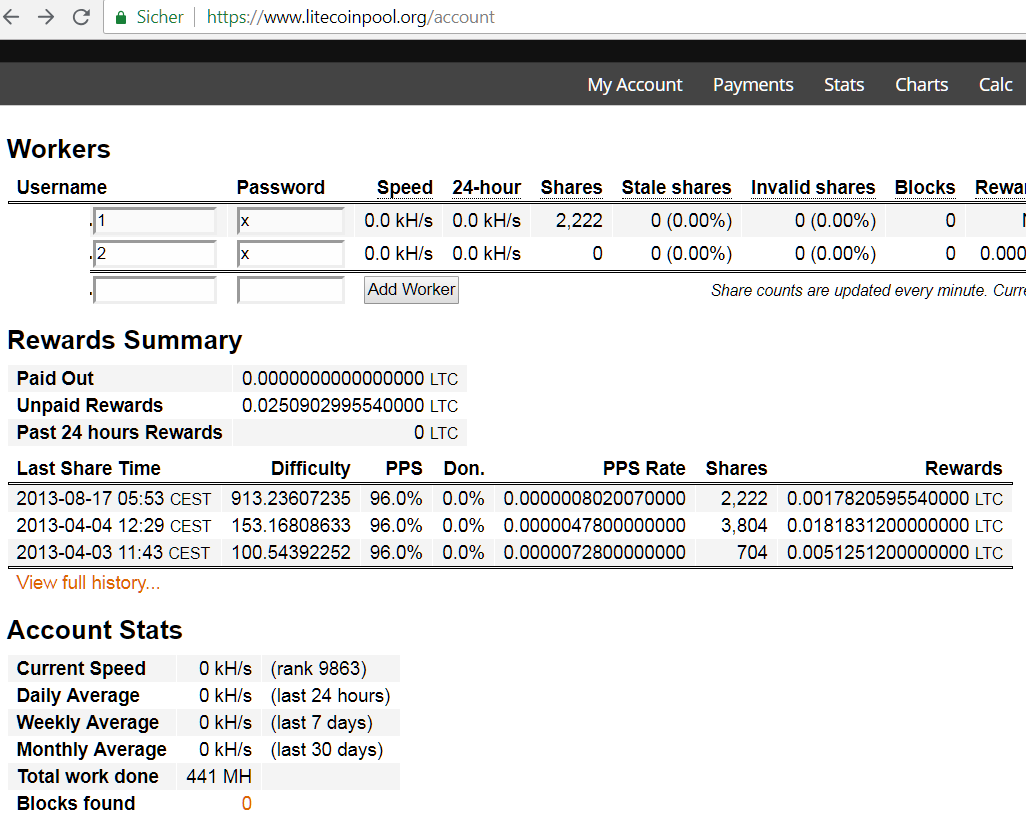 This is the best Litecoin mining pool with a good reputation. Litecoinpool allows meted mining alongside a transparent reward system dubbed Pay Per Share (PPS). This model ensures you get rewarded for every valid share you submit. The pool attracts many miners based on its scalability and security. It has emerged that the pool protects miners through the use of a TLS-encrypted stratum connection.
One interesting thing about Litecoinpool is that it offers merged mining for several altcoins that are based on the Scrypt algorithm but get rewards in LTC. Furthermore, there are no charges for the transaction. LitecoinPool also sends email notifications for idle miners on the platform. The service also has an easy payout system with payments being automatic and manual.  To secure your account, Litecoinpool uses features like the two-factor authentication.
Multipool
Apart from Litecoin, Multipool mining pool supports several cryptocurrencies like Dogecoin. In total, the pool supports mining of 30 cryptocurrencies with different algorithms. Payments are done in Litecoin and the withdrawal fee is free. With multipool, you can simultaneously mine Litecoin and Dogecoin while maintaining the hashing power.
Multipool has servers located in the United States and Europe. The pool miners enjoy different reward systems depending on a cryptocurrency one mines. For Litecoin it is PPLNS. On the downside, Multipool can be challenging for beginners due to the lack of sufficient customer support systems.
Prohashing
Prohashing is a profitable Litecoin mining pool that pays miners in any coin. The pool supports coins with t SHA-256, X11, Scrypt, CryptoNightV8, and many other algorithms. The platform joined the market in 2013 with the goal of providing a mining pool that is stable, easy to use, and transparent. Prohashing is among mining platforms that are open to feedback.
Prohashing also offers easy withdrawal where you don't require a minimum amount. Furthermore, there is an auto withdraw feature that allows you to withdraw Bitcoin, Litecoin and Ethereum anytime the account hits the configured amount.
Unlike other mining pools, Prohahsing offers hash rate graphs. The charts offer up to the minute hash rates displayed with your moving average. Furthermore, there is a Live Hashrate graph that gives you live data within seconds. Prohashing uses an SSL certificate, meaning all communication between your browser and the website are encrypted. Furthermore, you get access to the two-step authentication feature.
NiceHash
In terms of popularity, NiceHash is the most popular Litecoin cloud mining pool. The Nicehash platform supports almost all of the top algorithms, including Scrypt. Basically, Nicehash allows users to buy and sell computing power but get paid in Bitcoin. You can mine Litecoin and get paid in Bitcoin. The minimum payout is 0.001 BTC while the fees depend on the balance you have and the wallet type you use.
Nicehash does not require registration for miners but some of older versions of ASICs firmware are not compatible with Nicehash. Despite charging a 3% fee on orders, selling hash power on NiceHash is profitable than mining cryptocurrencies. Nicehash also provides help for large mining operations that are in need of technical help. To secure your account, Nicehash puts emphasis on keeping your email secure. It is a good practice to have a separate email for financial or crypto related accounts.
viaBTC
viaBTC is among the high ranking Litecoin mining pools globally. Apart from Litecoin, the pool supports the mining of Bitcoin, Ethereum, Bitcoin Cash, Dash, and Zcash.  Despite being a new entrant into the mining pool business viaBTC continues to attract different users based on the services it offers.
The pool has two types of reward payouts- PPS and PPLNS.  Additionally, viaBTC does not charge any transaction fee but miners part with a maintenance fee of 4% for PPS payments and 2% for PPLNS payments.  If you own mining hardware, just create an account and start mining. You can monitor the pool through mobile applications that are compatible with both Android and iOS devices.
Stand out features for viaBTC is the detailed FAQ section. The section is detailed and offers the necessary information. viaBTC also offers transparency where you can check the Hashrate of pools when necessary. Furthermore, you can easily monitor, control and calculate earnings. viaBTC offers daily payments alongside automatic fees deductions.
Conclusion
Mining revenues have been on a decline over the recent years. Mining revenue from 2011 cannot match 2019. Factors around the cryptocurrency sector development have contributed to this decline. However, mining can still be profitable if you select the correct mining pool.
With Litecoin being a cryptocurrency in focus, the above pools have proved to be the best in terms of profitability. However, the market has different pools. Before using any pool, always conduct your due diligence to avoid falling for scams. Most importantly, look at the security features put in place to secure your account. It will help in securing your earnings.
Subscribe to our Newsletter to be a part of our future $1,000 per month contests.
[mailpoet_form id='1']