The Basic Attention Token is an ERC-20 utility token connecting publishers, advertisers, and other blockchain users. The token is integrated within the privacy-centered Brave browser. Brave browser users can tip content creators using the BAT tokens. The token can also be used to buy ads through the Brave ad system. Users of Brave browser who agree to view ads from the Brave Browser ad system also earn through BAT tokens. BAT and Brave browser's goal is to improve online advertising by eliminating third parties. With the growth of the Brave browser, the BAT token is also gaining popularity. If you plan to hold BAT token in 2019, here are wallets to consider.
Brave Wallet
The Brave wallet is the official storage for the BAT token. The Brave wallet is inbuilt within the Brave browser. To use it, just download the browser and set up the wallet. Create a wallet by opening the 'Preferences' section and then select the 'Brave payments'. To use the wallet, Brave provides a guide you can follow to deposit and use your BAT tokens. Brave has partnered with payment service provider Uphold to enable users to deposit funds into the wallet. The wallet can be accessed on PC and mobile devices.
The Ledger Nano S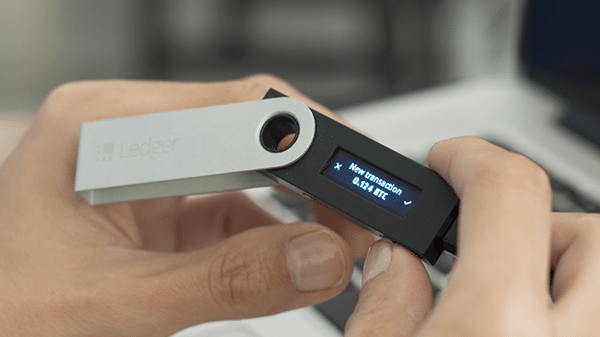 The Ledger Nano S is a popular hardware wallet for storing digital assets. It ranks as one of the best BAT wallets because hardware wallets are ideal for security reason. Apart from storing your BAT tokens, you can use the Ledger Nano S wallet to make instant payments. With the Nano S, your BAT tokens are safe from hackers. The wallet also comes with additional unique security features with an easy to use interface. The wallet makes use of the two-factor authentication to secure transactions.  It works with a Chrome extension used to access account details, send coins and generate addresses to receive funds. It has a simple and elegant design, with a small LCD screen and two buttons which allow you to confirm transactions.
Guarda Wallet 
BAT probably has a bright future ahead, as the cryptocurrency continues to increase its market adoption. So, it's important to have a great wallet to store it. That's why, from our list with the best BAT wallets, we couldn't miss Guarda wallet. 
Having the ability to control your private keys on a wallet it's not something any wallet from the cryptocurrency industry has. But Guarda does. And besides it, it also has some extra security measures that you can benefit from. 
And even better, you can access your wallet from any desktop device or even from your phone, as Guarda also has an Android app and an iOS one. With more than 200 positive reviews from Trustpilot, it's one of the best wallets that you can hodl your BAT tokens on. 
Trezor Wallet
The Trezor wallet and the Ledger Nano S are in the same league of hardware wallets for storing BAT tokens. To manage your BAT token via the Trezor wallet, you need a computer with a USB port. The wallet is only accessible through Google Chrome and the Trezor bridge. The wallet has an easy to navigate user interface that helps you to easily manage your BAT tokens. Note that the creators of the wallet made it open source for users to track any security breaches. It serves as one of the best BAT wallets because, it has a modern design, big screen and convenient to carry around.
MyEtherWallet
MyEtherWallet is the ideal wallet for storing all ERC-20 tokens including BAT. This BAT wallet can be easily integrated with both the Ledger Nano S and Trezor. The wallet can be accessed through the web. On matters security, MyEtherWallet is the appropriate BAT wallet because all data is stored locally and it is open source it allows users to generate new wallets to store their ERC-20 tokens themselves. Therefore, when you generate a new wallet, you are responsible for safely backing it up. Furthermore, MyEtherWallet allows you to swap your BAT tokens within the wallet. The platform has partnered with Bity, Kyber Network, Changelly, and Simplex to allow users to exchange fiat to crypto, ETH and BTC, ETH and ERC-20.
MetaMask Wallet
MetaMask has gained popularity as one of the best ERC-20 tokens wallets. This is a self-hosted wallet that enables users to manage ETH and ERC20 tokens like BAT. It has an HD wallet that provides a mnemonic phrase that you can keep as a backup. MetaMask has a secure identity vault, providing a user interface to manage your identities on different sites. The wallet is accessible through Chrome extension Firefox, Opera, and the new Brave browser. Generally, MetaMask is a platform that acts as a bridge allowing users to run dApps within their browsers without using a full Ethereum node.
Trust Wallet
The Trust wallet is ranking high as the best BAT wallets following its recent acquisition by Binance. Binance is a reputable cryptocurrency exchange with a large customer base. The Trust wallet allows you to manage BAT tokens through your mobile device alongside other 30, 000 ERC-20 based tokens. The wallet can be accessed through any Android and iOS devices. Trust wallets secure your BAT tokens by ensuring that your private key is only stored locally and protected with different layers of security. With the recent Binance partnership, Trust wallet works well with Binance DEX, allowing you to make instant trades on the decentralized exchange.
Jaxx Wallet
Jaxx Wallet popularity stems from the versatility it offers the cryptocurrency market. Apart from assisting you to manage BAT tokens, Jaxx gives you crypto news, allows you to create a portfolio among other benefits. The wallet is accessible through Android, iOS, Mac OS X, Windows, Linux, and Google Chrome extension for free. The platform has partnered with ShapeShip to allow users to exchange cryptocurrencies without having to leave Jaxx's UI. It protects your BAT tokens by giving you full control by allowing you to own the private keys. Furthermore, it uses industrial standard wallet data generation and derivation processes.
Exodus Wallet
When it comes to desktop wallets, the Exodus wallet has the best user interface for easy management of your BAT tokens. This BAT wallet is accessible from Windows, macOS, and Linux. Apart from BAT, the wallet supports more than 100 cryptocurrencies with an easy to use interface. The wallet encrypts private keys and transaction data on your device. Note that your data remains private and there is no need for registration and account setup. Another unique aspect about the Exodus wallet is that it has a 24/7 support in the event you have difficulties in managing your BAT tokens.
Coinomi Wallet
Coinomi wallet comes with host features to assist you in managing your BAT token. The wallet boasts of unique security features to protect your funds all the time. The Hierarchical Deterministic Wallet logic feature enables you to keep everything both accessible and secure, with one strong passphrase. The wallet is compatible with Android and iOS for mobile devices. On PC, it works well with Windows and MacOS. Depending on your native language, managing BAT tokens with Coinomi should not be a problem since the wallet is multilingual with support for English, Chinese, Spanish, French, German, Russian among other languages alongside 24/7 customer support.
Conclusion
Settling on an ideal cryptocurrency wallet is a hard task based on the various options available in the market. However, if you are a BAT enthusiast, the above-mentioned wallets should be ideal for you. But before picking a wallet, ensure you have conducted sufficient research. The wallet should be compatible with your device and also easy to operate. Hot wallets are susceptible to security breaches. As a result, go for a hardware wallet since it keeps hackers at bay. Furthermore, always strive to find out what other users think about a particular wallet before using it.
Subscribe to our Newsletter to be a part of our future $1,000 per month contests.
[mailpoet_form id='1']