Dogecoin is also known as the joke cryptocurrency. The asset was started as an internet meme with its logo resembling the Shiba Inu dog. According to developers, the underlying idea of DOGE was to have a cryptocurrency that is free of controversies and troubles and exists solely for fun. Over the years, DOGE has been growing in popularity with a vibrant online community. Since its creation, Dogecoin has also been used to donate money to charities. In 2014 the Dogecoin community helped the Jamaican Bobsled team participate in the Sochi Winter Olympics. We also have a water project in Kenya called Doge4Water.
These peer to peer cryptocurrency serves two primary purposes. The coin is used by social media users. Holders of DOGE can tip other users on platforms like Reddit and Twitter for posting informative, educational, funny, entertaining posts. In most cases, the tips are about $0.20. Tipping does not only reward users but also helps in popularizing the DOGE philosophy. Furthermore, DOGE can be used to pay for products and services online.
How to Own DOGE
DOGE is an asset that is rising in popularity hence the need to own it. Owning the asset can be a challenge, especially if you are not familiar with the world of cryptocurrencies. However, you can possess DOGE through purchasing on exchanges. Popular places to buy DOGE include Exrates, YoBit, and Livecoin. Additionally, if you are a merchant, you can own some DOGE by letting your clients pay through the cryptocurrency. After buying DOGE, you can choose to hold it until it's value increases or tipping content producers online. By the time of writing this article, DOGE was trading at $0.002931 ranked in the 30th position with a market capitalization of $352,903,610. Here are the best wallets to store your Dogecoin.
Ledger Nano S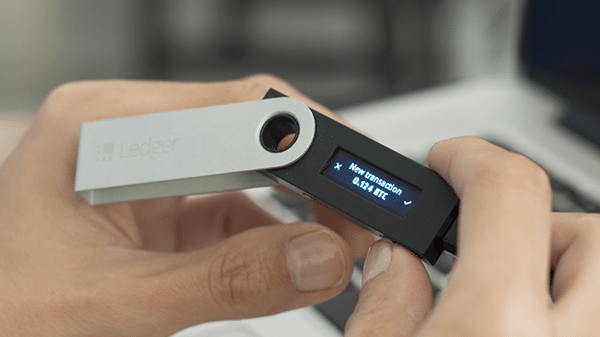 The Ledger Nano S is the most popular hardware wallet with unique security features. Apart from Dogecoin compatibility, the Leder Nano S also works well with dozen of other cryptocurrencies including Bitcoin, Ethereum and Bitcoin Cash. To manage your Dogecoins, you will need to access the wallet through a computer USB port and a Google Chrome extension. The setup process is straightforward, while the interface is also seamless to navigate.
The Ledger wallet is ideal for storing DOGE based on its unique security features. This wallet comes with the 2-factor authentication feature, a secure PIN code, and recovery seed accessibility. The Ledger also has a built-in OLED screen, that allows you to check the transaction details with a double-tap button. Being an HD wallet, the Leger will enable you to control many accounts for all supported cryptocurrencies. This means that all cryptos stored here will be secure with the same backup key.
Exodus Wallet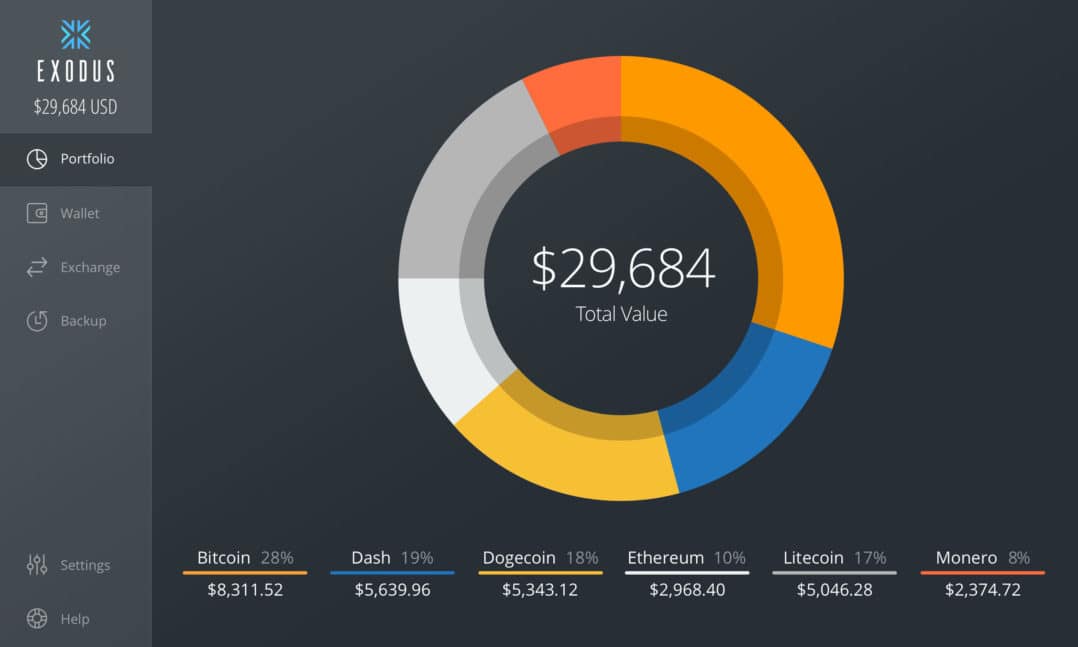 Exodus wallet is compatible with both desktop and mobile devices. The main feature of this wallet is its unique user interface. Apart from managing DOGE, Exodus lets you store assets like Bitcoin, Ethereum, Bitcoin Cash, among others. On the desktop, Exodus works well with Windows and Linux operating systems. The new mobile wallet works with iOS and Android devices. Upon logging into both wallets, you have an instant snapshot of your crypto portfolio, as well as all the features you need to manage your funds.
From the security perspective, Exodus allows you to store your private keys on your device locally. We also have a one-click recovery system. Recently, the wallet added the Trezor wallet compatibility. This means that you can enjoy all the security features associated with the Trezor hardware wallet. As an added advantage, Exodus comes with inbuilt exchange powered by ShapeShift. Exodus also has an efficient customer care support system that is available 24/7.
Guarda wallet 
Dogecoin was created for fun. But that doesn't mean you shouldn't protect you DOGE tokens. Guarda wallet is among the best options to store your DOGE on, as you're the sole owner that can access those funds. 
The Guarda wallet is a non custodial one, which means that the developers of the wallet don't have access to your funds and they cannot be hacked in the same way as an exchange. Instead, here you generate your own private keys and it's your duty to store them safely. 
And you can also use it on mobile, as Guarda has an app for Android and another one for iOS where the DOGE coins can be stored. And it's also super user friendly with a good support that's there to help you. 
DogeCoin Wallet
This is the official wallet for managing DOGE. On the desktop, the Dogecoin Wallet is available on Windows, Mac, and Linux platforms and on mobile it works well with Android smartphones. The developers of this wallet intended to create a platform that allows for the easy and convenient management of DOGE. The setup process is simple and easy to use. This wallet also boasts of unique security features like the two-factor authentication.
The Atomic Wallet
The Atomic is a secure multi-asset wallet with support for Dogecoin and other cryptocurrencies. While using Atomic, you can manage your Dogecoins through Windows, macOS, Ubuntu, Debian, and Fedora. On mobile, it is compatible with Android and IOS devices. Atomic wallet helps users stay anonymous and secure by advocating decentralization in their process. Users can swap their Dogecoin within this wallet thanks to the built-in exchange powered by Changelly and ShapeShift. With Atomic wallet, you can decide to hold your Dogecoins at the same time track your wallet in different fiat currencies.
Once you download the Atomic wallet, you can use its features for free. However, you will incur certain charges at different levels. From a security point of view, Atomic wallet secures your DOGE thanks to the high-level encryption and custody-free solution. Since its an open-source wallet, you can monitor all the code changes quickly in case of malice from developers. Additionally, data on passwords does not leave a user's device. Through the Atomic, you can buy Bitcoin, Litecoin, Ethereum, and XRP with your bank card. The platform accepts USD, EUR, and your local currency globally.
Trezor Wallet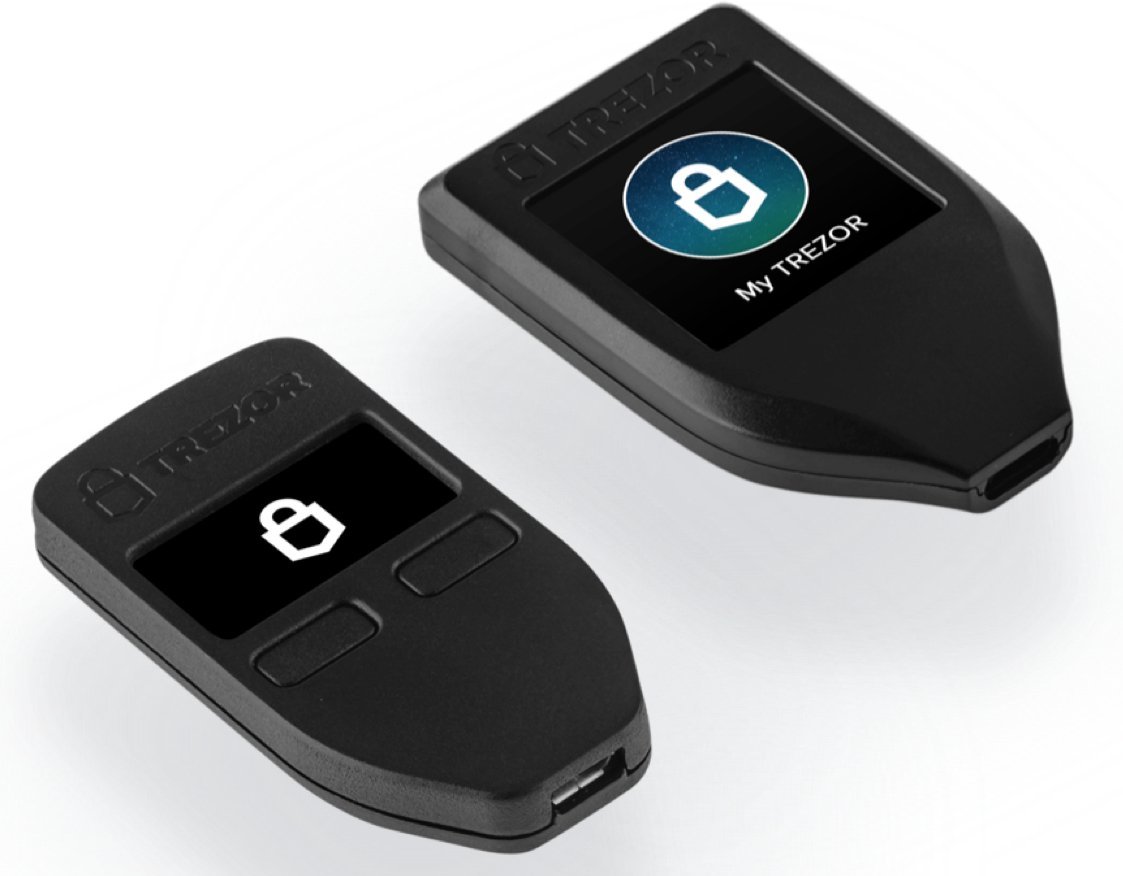 The Trezor wallet is another popular hardware wallet with a focus on security. Apart from Dogecoin, Trezor lets you manage other multiple cryptocurrencies like Bitcoin, Bitcoin Cash, Ethereum, XRP among others. The wallet set up is straightforward. To access the wallet's interface, you will need a computer USB port. The main advantage of using the Trezor is the security features like the advanced cryptography, buttons, and a built-in screen so you can manually verify all transactions and secure PIN protection. The small OLED screen shows a randomly generated nine-digit pin code and a 24-word recovery seed to keep your funds safe in an offline environment. If you lose your wallet, there is no need to worry because Trezor allows you to set up the backup. The back up takes about five minutes.
Dogecoin Freewallet
The Dogecoin Freewallet allows users to manage their DOGE on iOS, Android, and the web. With this wallet, even if you don't have DOGE, you can always fund your account with any other coin or token, and it will be automatically be converted into Dogecoins. The wallet set up is straightforward since it is already backed up and ready to use. The wallet automatically syncs the blockchain at no cost. You can start using the Doge Wallet instantly by logging in with your email, Facebook, Gmail, or mobile phone number. Through the wallets interface, you can monitor the exchange rate of Dogecoin with real-time price charts in USD and other fiat currencies.
Conclusion
To get the right wallet for your Dogecoin, you need to do your research first. Look out for the wallet's market reputation by reading other user's reviews. Remember to set up a strong password and make backups. This will ensure you recover your wallet in case you lose your device. Additionally, make use of all the available protection features set up by the wallet. Most wallets will have PIN support and the two-factor authentication feature.
Subscribe to our Newsletter to be a part of our future $1,000 per month contests.
[mailpoet_form id='1']