EOS is a blockchain project that powers the development, hosting, and execution of commercial-scale decentralized applications on its network. EOS has its own EOS blockchain, similar to the Ethereum blockchain. The main role of the EOS network is powering up its blockchain and help millions of users create smart contracts  or send and receive EOS. But one of the most important things that you need is a reliable EOS wallet.
This capability is achieved through the creation of an operating system upon which applications can be set up. Since joining the market, we have no official full form for EOS. The EOS platform enables businesses and individuals to create blockchain-based applications like web-based applications. The EOS platform operates just like Google's Play Store and Apple's App Store. Generally, the EOS network has two elements, the EOS.IO, and the EOS.
EOS.IO is responsible for managing and controlling the entire EOS network. In simple terms, EOS.IO deploys the blockchain architecture that is set up to enable vertical and horizontal scaling of decentralized applications. The EOS token is the cryptocurrency of the EOS network. Therefore, developers need to own EOS coins to be eligible to use network resources.
How to Own EOS Tokens
EOS is currently the sixth cryptocurrency according to Coinmarketcap data. The asset is trading at $5.80 with a market cap of $5,349,141,444. To own eos coin, you need to buy EOS on any supported exchange. You can get the asset on platforms like Kraken, eToro, and Binance. After purchasing your assets, you need to get a compatible wallet to store the coins. Here are the best EOS wallets for 2019 to consider.
The Ledger Nano S – A pricy but strong option to keep your EOS safe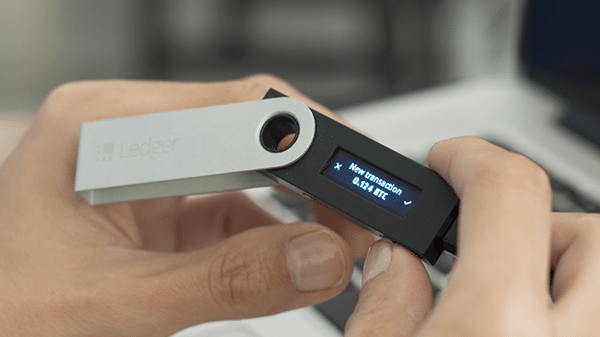 The Ledger Nano S is among the most secure cryptocurrency hardware wallets. This wallet is compatible with EOS alongside other multiple assets like Bitcoin and Ethereum. The Ledger Nano S and everything from Ledger are cold storage wallets. The Nano S is one of the best wallet that supports EOS.  Of course that supporting EOS got them a lot of new orders as the Ledger Nano S has a pretty high cost, but its still a cheap price to pay for the security.
You can manage your EOS coin by connecting the wallet to a computer using the USB port. On the computer, you can access the wallet's interface through a Google Chrome extension. The Nano S features a built-in OLED display and buttons that you need to press manually for verification of transactions. The Nano S comes with PIN capability and it is easy to set up and use.
The wallet also has support for the two-factor authentication feature making it one of the most secure wallets around. The Nano S also lets you create backups of your wallet by writing down a 24-word phrase. Ledger Nano S is among the best wallets for eos, but its also a bit costly. However, if you buy eos in a large amount – you should keep it on a Ledger.
The Ledger team also released the Ledger Nano X, which is compatible with both iOS and Android mobile devices through Bluetooth connectivity. The Nano X is an updated version of the Ledger Nano S. The wallet supports more than 1000 cryptos among them EOS coin.
Guarda Wallet 
Guarda wallet is one of the most respected cryptocurrency wallets out there. On their wallet website, you can easily see that they have 4 wallet types : a web wallet, desktop wallet, mobile wallet or a chrome extension – each so you can select the level of security that you wish in your crypto wallets.
Guarda supports multiple cryptocurrencies besides the EOS coin. Their wallet supports more than 40+ chains and 10k tokens.  Guarda is one of the most reliable multicurrency wallets, as you can chose from a variety of options to store your crypto.
One of the best things about Guarda wallet is the fact that they don't actually have access to your private keys or funds. Basically, it works as a paper wallet where your funds are as secure as they can be.
Another interesting thing is that Guarda wallet actually have a possibility to purchase cryptocurrency directly from their website, trough Simplex. All the things mentioned above makes Guarda wallet a great option for storing your eos.
Lumi Wallet – A simple yet powerful EOS wallet 
The Lumi wallet is a new entrant in the cryptocurrency world, but already claimed a place in the top 3 best EOS mobile wallets. This is an open source mobile wallet that lets you buy, store and exchange EOS, BTC, ETH, and ERC20 tokens. This wallet has plans for integration of the voting process and even enabling the users to vote for the block producers.
Lumi aims to be fit for both the beginners and experts; hence we have continued development on its code. It is a mobile cum web wallet, which is available on Android and iOS version. This is a hierarchical deterministic wallet meaning that it can be recovered using a 12-word mnemonic phrase. Additionally, no personal information is accessible by the Lumi team. The team values the privacy of user accounts. Note that the wallet is created locally on your device, so you're responsible of the data from it.
If you're looking to find wallets for storing EOS on mobile, Lumi is a great choice as it accepts EOS coin as well as other cryptocurrencies. This makes Lumi Wallet one of the best eos wallets out there.
The Freewallet – a EOS wallet focused on security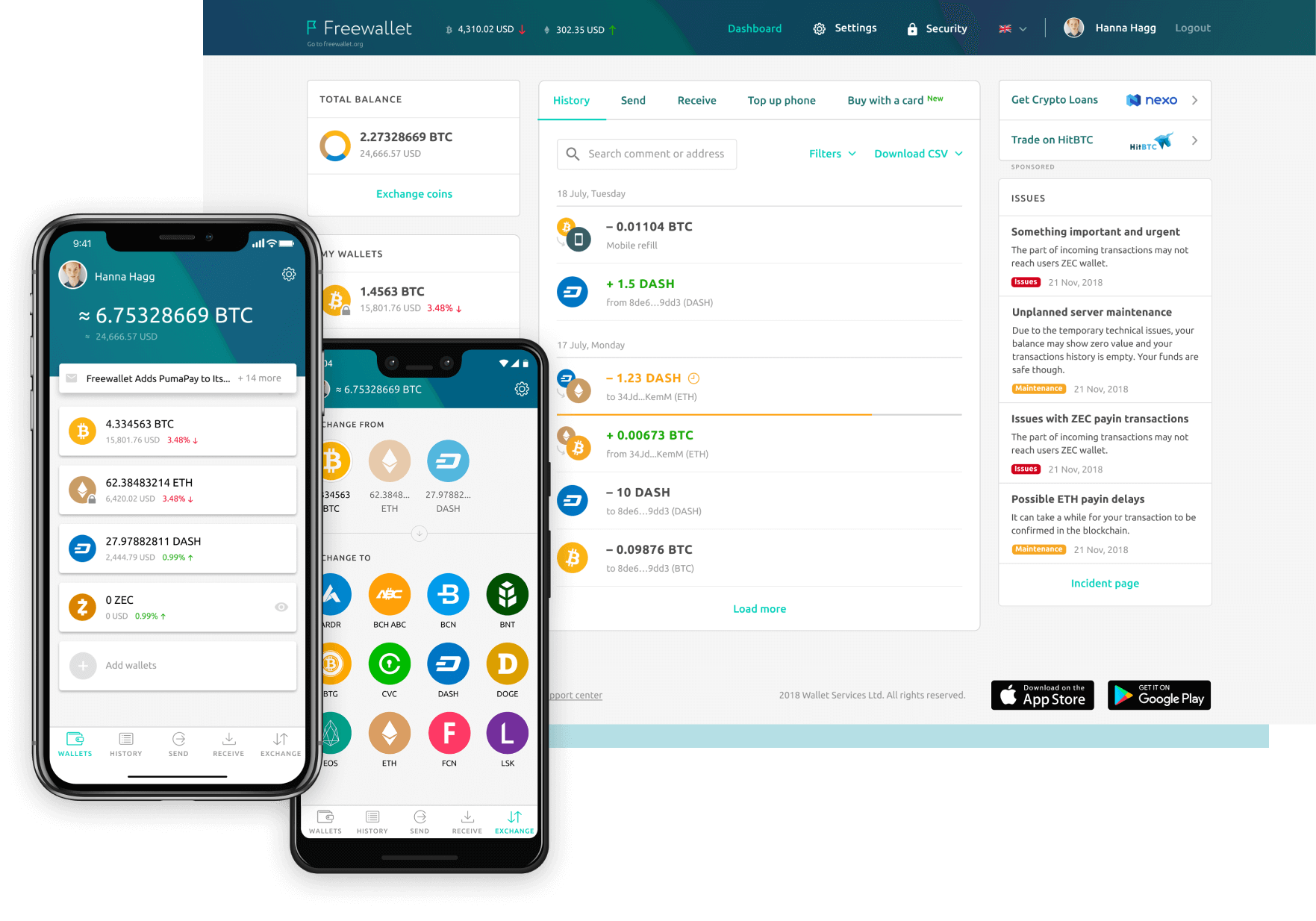 Storing your eos on this wallet its pretty much the easy way to go. The Freewallet has excellent security features in place, making it one of the best EOS wallets out there. The wallet also supports other multiple assets and it is compatible with mobile devices for iOS and Android, making Freewallet one of the best wallets for EOS.
With Freewallet, all EOS tokens are in an offline vault giving it an extra layer of security. The wallet has a PIN code and the touch ID for enhanced security alongside the two-factor authentication. Additionally, the wallet has a multi-signature feature. If you're looking for eos mobile wallets – Freewallet can be a really top choice for you.
Note that with the Freewallet, we have a transactional limit for a day or a week, customizable by the user to make sure nobody withdraws more than planned. This wallet allows you to get real-time EOS chats, balance in fiat, and optional email confirmation for all transactions.
The wallet also allows a user to share their address on various social media platforms like Facebook and Twitter directly. Additionally, the wallet supports different languages, including Chinese, German, French, Spanish, Russian, and more. The Freewallet is among the few that come with an efficient customer support service 24/7.
Infinito EOS Wallet – a non-custodian EOS wallet 
Infinito Wallet is a multi-asset universal wallet that offers support for EOS, Bitcoin, Bitcoin Cash, Litecoin, Ethereum, Dash, Neo, and Dogecoin. Furthermore, the Infinito EOS wallet enables access to leading smart contract blockchain tokens. The Infinito lets you pay for various services and goods and services directly from the wallet in a convenient manner. Additionally, the wallet enables you to make some money by allowing you to lend your EOS tokens.
From a security perspective,Infinito wallet doesn't have access to your private keys. All private keys are fully encrypted and securely stored on your device. This means we have no third party access to your keys.
Additionally, we have the password and fingerprint feature. This feature means that you are the only one with access to your funds. One reason why Infinito EOS wallet stands out is the fact that it lets you do a profile check on blockchain addresses.
In the process, you avoid interacting with scammers. Lastly, we have the token veri-sign seals that help you identify the authentication token and its smart address among those with similar names. You can download this wallet from the Apple App Store or Google Play. Same as Freewallet, Infinito is among the best eos mobile wallets.
SimplEOS Wallet – The best EOS wallet for dapp users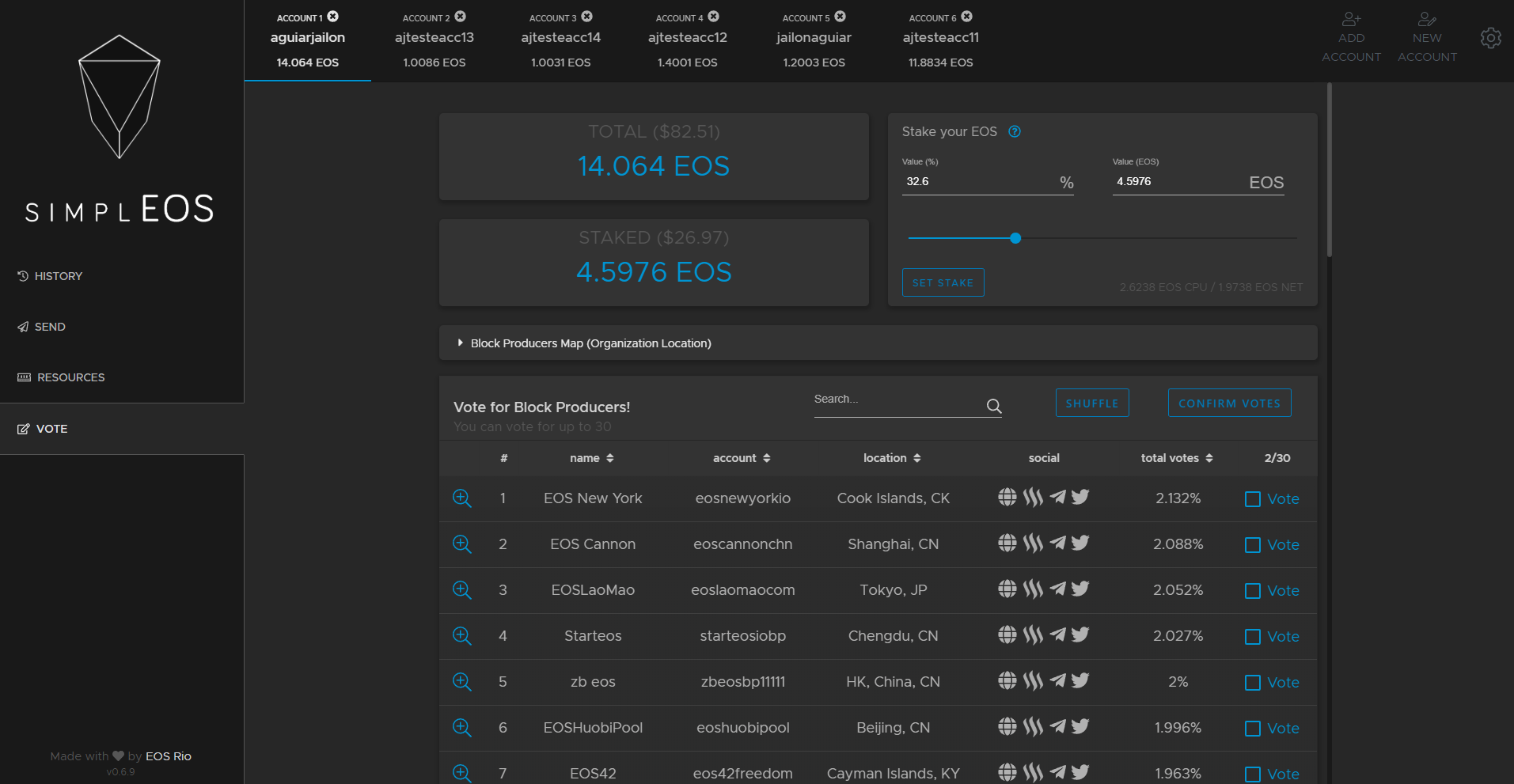 This wallet is specifically for the EOS network. The wallet is also fully integrated with features available in the EOS.IO software. This desktop wallet is compatible with Windows, Linux, and Mac platforms.
This wallet is backed with transparency and security philosophy. One outstanding feature with the SimplEOS is that you can easily import your EOS Mainnet private keys to claim your EOS Mainnet tokens. You can use your wallet with the same configuration on different devices.
This option is set to default, and the backup only works in SimplEOS. The SimpLEOS wallet lets you interact with DAPP's contracts. This option is in beta and will improve a lot in the coming versions.
Scatter Wallet – Privacy focused wallet for EOS hodlers
The Scatter EOS wallet is a desktop application that comes with a Google Chrome browser extension that allows you to interact with the EOS blockchain. Some of the security features in place include the use of Single Sign-On (SSO) through asymmetric encryption.
This feature enables you to sign transactions and log into applications without revealing personal details. Additionally, users have to give a hashed fingerprint comprising of numbers and letters to access the wallet. Note that, all private data related to your wallet is locally stored.
At the moment, Scatter eos wallet supports the EOS and Ethereum blockchains. Getting started with the wallet is a straightforward process for both crypto beginners and experienced individuals.
EOS Paper wallet – the best EOS wallet to store it long term
An EOS paper wallet might be the safest way to keep your EOS, but its pretty hard for a beginner to create  paper wallets and to transfer funds from these paper wallets to an exchange. In fact, the easiest way to do this would be by using one of the wallets mentioned above. Paper wallet is basically a vault to store your cryptocurrency, the perfect cold storage wallet. There are a few websites online that will help you create a eos paper wallet.
But the problem is, most of the stuff that you can find on a website can be altered. Even the movement of the mouse can be re-created. That's why its better to generate one yourself by using this EOS paper wallet . This code from github would be a better option as its open source and you can check the source code. Now, if you're not someone who's good on programming – storing your EOS coins on a paper wallet might be pretty hard for you. But if you're looking for close to 100% safety, this is the best option and its the best place to keep your EOS coins.
Conclusion
EOS is an asset with eyes on the top five category of cryptocurrencies. Therefore, this makes EOS a digital asset worth investing in. The basis of investing in any cryptocurrency is getting the right and secure wallet. Before settling on any wallet, always conduct some research. The highlighted wallets are among the leading EOS storage platforms.
Subscribe to our Newsletter to be a part of our future $1,000 per month contests.
[mailpoet_form id='1']