New Economy Movement (NEM) is a is a peer-to-peer cryptocurrency and blockchain platform built specifically for developers. NEM is an exciting cryptocurrency due to the unique features it has introduced to the blockchain technology. Courtesy of NEM, we have proof-of-importance (POI) algorithm, multi-signature accounts, encrypted messaging, and an Eigentrust++ reputation system features. 
It is worth highlighting that NEM is a dual-layer blockchain with similarities to Ethereum but built on Java.  The technology makes it possible for multiple ledgers to coexist on one blockchain.  The NEM Smart Assets allows mosaics which represent any store of value. The NEM proprietary cryptocurrency is called XEM, mined using a Proof-of-Importance (PoI) algorithm. If you are planning to invest in NEM in 2019 here are the best wallets to store the asset.
Things to Consider Before Buying a NEM Wallet
Before settling on a wallet to store your NEM, you need to ensure a number of things are in order.
The security of your assets should be the number one priority.  Go for a wallet that ensures no third party can access your assets. Wallets, where private keys are stored offline, should be top on the list.  Additionally, the wallet must be up to date with security protocols.
Ensure the wallet is compatible with XEM. If the wallet of your choice supports multiple coins, ensure that XEM is among them. Furthermore, for online wallets, they should be compatible with your device. Lastly, the wallet should have a friendly user interface that is easy to navigate. 
NEM Nano Wallet
The NEM Nano wallet is among the efficient and secure storage platforms for the crypto. The wallet allows you to store, manage and send XEM. Additionally, the NEM Nano Wallet allows you to send mosaics alongside messages to a different address.
This NEM wallet is easy to use with a user-friendly interface supported on multiple devices like Windows, OSX, Linux, and macOS. You will be guaranteed safety of your assets based on the security features linked to the NEM Nano Wallet.  The wallet has On-Chain Multisignature and Multi-User Accounts for easy control of your private keys.
If you wish to exchange your XEM coins, the NEM Nano Wallet has integrated with the Changelly Instant Exchange. Additionally, the wallet can be integrated with the Trezor Hardware wallet.
This wallet can be downloaded from the NEM official website.  After downloading the files, and installing the software, you will have to create your own wallet. Click on the signup button and then click on the create a simple wallet button to proceed. You will then create a password and then log in to start using the wallet. This process is simple and straight forward.
Guarda Wallet
As we dive into the list of the best wallet to keep XEM, we couldn't miss Guarda wallet. This wallet is another great option to keep your XEM tokens on as the security is pretty much flawless into the hands of someone who knows how to protect himself from hackers. 
The Guarda wallet has multiple benefits, but among the best ones are the fact that it is a non custodial wallet – you can only access your funds using your private key that you're controlling and owning. 
Another huge bonus is the fact that you can access the wallet from a mobile device and even use the instant exchange which allows you to swap a cryptocurrency for another one. It's simple, easy to use and developed continuously from 2017 until now. 
NEM Mobile Wallet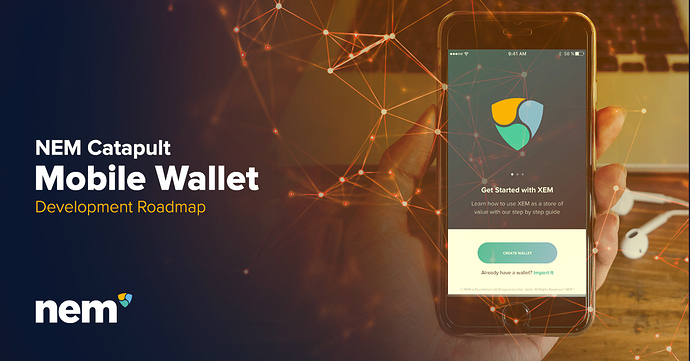 This is the official wallet for storing and managing the XEM cryptocurrency.  The NEM Mobile wallet is an open source application that boasts of a user-friendly interface and easy to use on both Android and iOS platforms.  Transactions are completed quickly, and it's simple to navigate your way around the user interface. 
Users can generate, import and export NEM accounts, create multisig contracts and manage multiple accounts and local address books through the NEM mobile wallet.  No third party can access your funds since all the private keys are stored locally on your device.
Unlike most mobile wallets, the NEM Mobile wallet does not allow blockchain download since it is lite and uses the NEM APIs. Additionally, the wallet enables users to make NEM addresses with QR codes.
Freewallet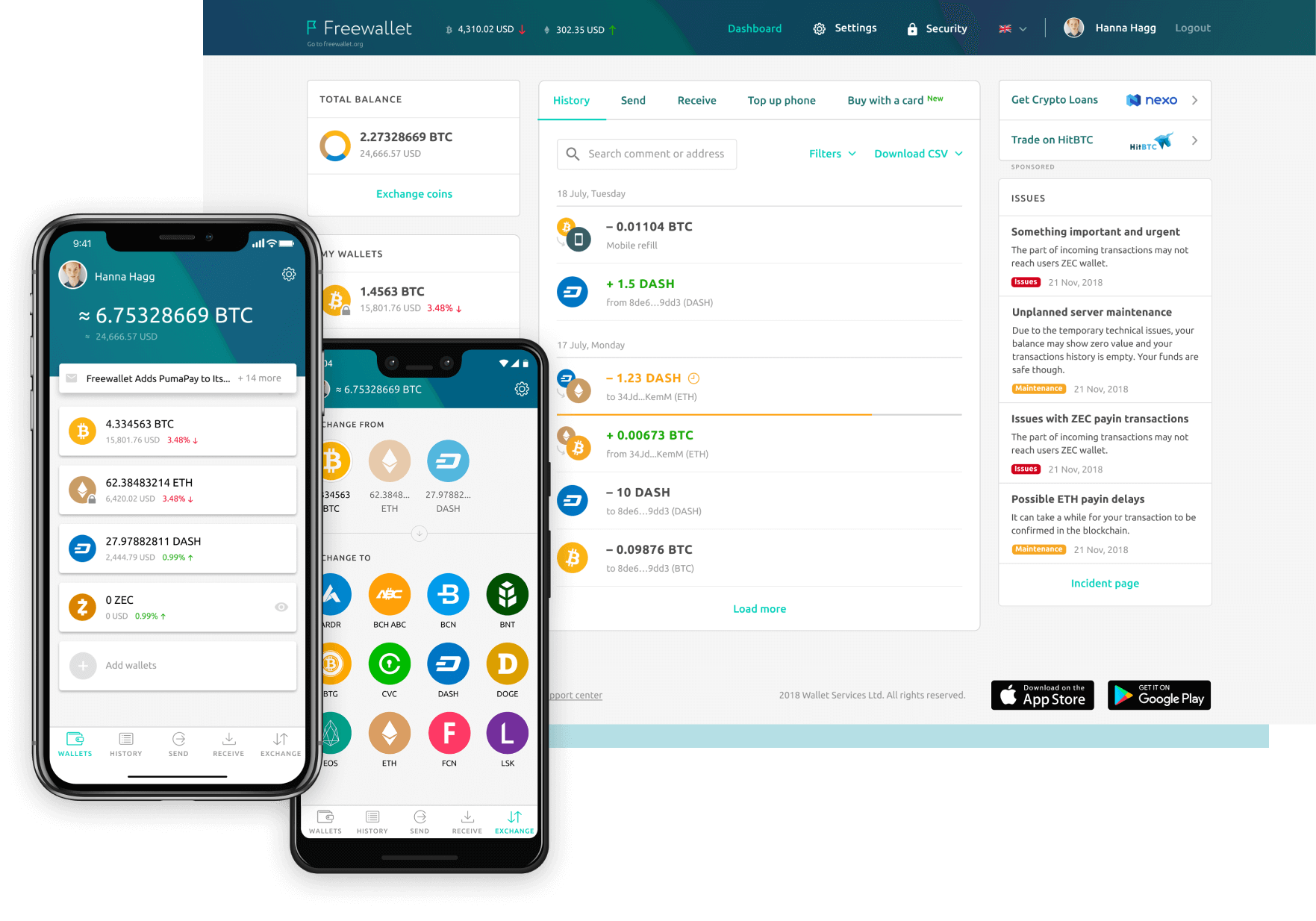 The Freewallet is a mobile wallet compatible with iOS and Android with support for different cryptocurrencies among them XEM. The wallet also supports Bitcoin and Ethereum. The Freewallet ranks high among top XEM wallets since all the assets are in offline vaults.
The Freewallet for XEM is ahead of the game based on its unique back feature. As a user, you can restore your wallet from a backup, freeze it from any Android or iOS device. This takes care of instances where your device gets lost.  Other security features include PIN code, touch ID and the two-factor authentication.
You also get real-time XEM chats, balance in fiat and optional email confirmation for all transactions. The wallet also allows a user to share their address on various social media platforms like Facebook and Twitter directly.  Additionally, the wallet supports different languages including Chinese, German, French, Spanish, Russian and more. The Freewallet for XEM is among the few that come with an efficient customer support service 24/7.
Trezor Wallet
Trezor is a cryptocurrency hardware wallet that supports multiple assets including XEM. Note that for guaranteed security of your assets, hardware wallets are mostly recommended as opposed to hot wallets. With hot wallets, hackers can make away with your cryptocurrencies with little or no chance of recovering them. The Trezor wallet for XEM tries to deliver on both security and convenience. To secure your coins, simply keep your wallet in a safe place.
Trezor wallet is small and accessible through a USB cable. Interestingly, the wallet works well even on a computer infected with malware. After acquiring the wallet, you can access it by visiting wallet.trezor.io on Google Chrome, or via a thing called TREZOR bridge. The interface seamlessly connects with your TREZOR device. This is where you control, manage and initiate transfers of your XEM cryptocurrency.
Key Security Tips For Storing XEM Coins
Use a strong password. Create a password that is hard to guess. Incorporate letters, numbers, upper and lower case letters alongside other characters in your password.
Back up your wallet. Sometimes, you can lose access to your device. If you don't have a back-up, it means your funds will be lost too.
Privately store security keys. All your private keys should remain private. Don't share them with another party.
Maximize existing security features. Most wallets have the PIN and two-factor authentication features. Ensure you activate such features to give your wallet an extra layer of security.
Conclusion
Generally, when it comes to selecting a cryptocurrency wallet, security should be the top priority. The market has various NEM wallets, equipped with different security features, however, hardware wallets carry the day.
The highlighted wallets are best for storing XEM, but the Trezor wallet stands out.  Note that, some of the wallets are perfect for desktop and mobile. If you want to manage your asset on PC then the NEM Nano Wallet is ideal while the NEM Mobile wallet goes for mobile devices.
Image Source: Smatereum
Subscribe to our Newsletter to be a part of our future $1,000 per month contests.
[mailpoet_form id='1']