NiceHash is a popular cloud-based mining software that connects sellers and buyers of computing hashing power. NiceHash has over 170,000 miners, more than 3.3 million orders served, and over 181,000 BTC paid out since joining the market. This mining software is making mining convenient for individuals who cannot afford expensive mining hardware by allowing miners to share the revenue earned. Note that miners can operate the NiceHash Miner software or link it with mining hardware. When you sell your computing power, you will be compensated in Bitcoin.
Despite NiceHash enjoying a good run in the cryptocurrency mining sector, the platform suffered a hack in late 2018. However, the team at NiceHash has managed to restore normal services. In this article, we look at NiceHash alternatives that you can consider for your mining business.
MinerGate
MinerGate is a mining software that offers users with a platform for mining altcoins like Ethereum, Zcash, Monero, Litecoin, Bitcoin Gold, Ethereum Classic,nTRON, Bytecoin, Monero-Classic and Block Producer EOS. This is a good NiceHash alternative because it offers you two mining options. The first option allows you to mine one or more cryptocurrencies that deploy the same algorithm. With the second option, you get to choose the most profitable coin to mine. The algorithm maximizes your mining output of your Laptop, PC, or server. You can also check our past article about Minergate alternatives.
However, MinerGate allows you to limit how much computing power of your hardware will be used to mine. To keep your mining returns safe, MinerGate uses a valid SSL certificate, 2F, and email verification. Once your payout minimum amount is reached, you are paid directly into your wallet. Note that MinerGate does not allow miners to store their earnings on the platform for security reasons. MinerGate mining fees stands between 0% and 1.5%.
Kryptex Miner
Kryptex Miner is a platform that allows you to mine using your CPU and GPU. Note that Kryptex does not support cloud mining. Unlike NiceHash, this miner deploys a smart computer hardware sensor to estimate how much you can earn over a certain period of time by testing your PC's performance. The platform combines the processing power of thousands of computers to run a complex distributed cryptocurrency computations.
Your earnings are paid to a Bitcoin wallet address. Additionally, you can receive earnings through the Qiwi Visa Wallet which is a free online bank card. Kryptex Miner works on Windows and it is easy to install with a user-friendly interface.
Cudo Miner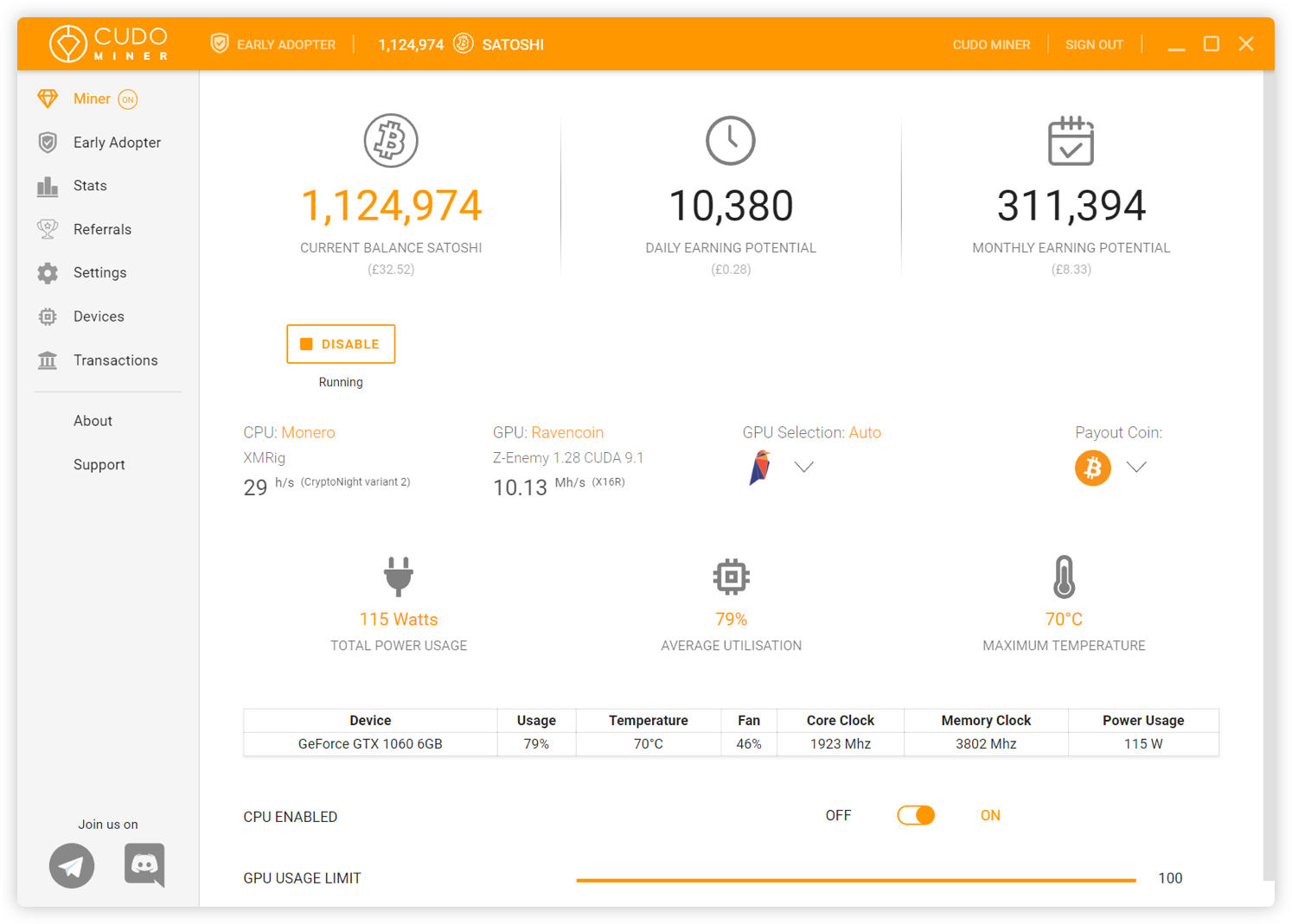 Cudo Miner is another NiceHash alternative compatible with Windows, Ubuntu and Mac OS.  Note that you will have to create an account before you proceed with the mining process. This miner is automatic reducing manual configuration and intervention by up to 95% without losing profitability. Apart from a desktop application, Cudo Miner has a dedicated Web Console for monitoring and remote management.
Cudo Miner comes with an automatic algorithm switching feature that ensures only profitable coins are mined. If you are a seasoned miner, you will have to customize your computer to mine a specific coin by disabling the auto algorithm and manually select the coin to mine. The software can be used by both new and experienced miners based on its friendly user interface.
This software stands out based on its inbuilt GPU overclocking settings. It is worth pointing out that Cudo Miner does not interfere with your computer's operation. Cudo Miner remains dormant in the background on your computer and will intelligently start mining when the system is idle.
Honey Miner
Honey Miner is among the latest and interesting mining software for Windows. You can download the software from the official website, create an account and start mining. You will need to enter a valid email address for your account to be verified. HoneyMiner turns your computer into a mining rig for passive income. All payments are in Bitcoin.
The platform converts all earnings into Bitcoin before initiating payments. Additionally, HoneyMiner determines the most profitable cryptocurrency before mining. Unlike competitors, HoneyMiner can make use of high processing speeds as well to mine cryptocurrencies. Furthermore, HoneyMiner has a profitability calculator that allows users to determine how much they will earn before starting mining. HoneyMiner protects your assets by use of SSL certificate, two-factor authentication, and use of cold storage for cryptocurrencies.
Awesome Miner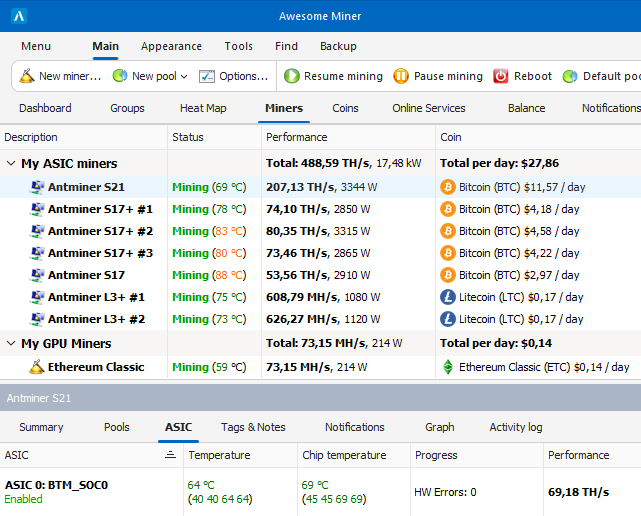 Awesome Miner is accessible through a web interface and Windows application. The miner is a perfect NiceHash alternative since the mining process is instant. You don't need to sign up to start mining. The platform supports mining of over 40 cryptocurrencies. Additionally, Awesome Miner has full flexibility to add any custom mining software, algorithm, and mining pool. Awesome Miner has a profitability switching system which depends on real-time multi-pool statistics and various coin parameters to give maximum mining returns. Despite having a cluttered user interface, Awesome Miner uses the native overclocking feature to control the clock speed, voltage, power and fan properties of your GPU's. The clocking can also be performed via the remote control of MSI Afterburner.
WinMiner
WinMiner plans to revolutionize the mining sector by increasing the profitability of miners. The platform works by turning your computing power into a passive income source by identifying the most profitable coins to mine. At the moment, the software is only functional on Windows computers. The Win Miner software is designed in a way that it deploys the computer's hardware only when it's not needed through the Auto Mode feature.
Payments are in Bitcoin, USD, and Ethereum. The minimum payout is $10 with a wide selection of withdrawal methods like Amazon and iTunes gift cards.
Computta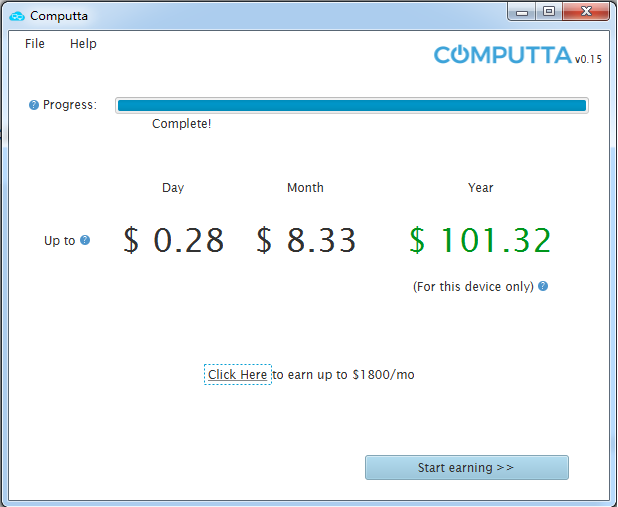 Computta's vision is to make the mining process efficient and smooth by eliminating any barriers along the way. As a result, the developers have invested in user-friendly software that is easy to operate for both beginner and experienced miners. Computta is a good NiceHash alternative due to its simplicity. This mining platform is automatic thanks to the smart solutions incorporated in the system. The installation process is quick and takes only five minutes to get started. Note that earning as converted into Bitcoins by default. Computta is also unique because it has a referral package. Users get to earn by referring to their friends.
Computta Smart Miner works in the background of the computer and does not affect your computer's normal operations. There is a Smart Mode that is turned on when your computer is idle. You can also customize the software operations through the advanced settings section.
Conclusion
NiceHash is the most popular mining software. However, following the 2018 hack, some users reconsidered the choice to use the platform. The market has different Nice Hash alternatives you can consider. The highlighted options are among the leading mining software. However, based on your needs, carry out some research before you start using any mining software. Go for a mining platform that is easy to use with a friendly user interface. The mining option you use should also operate without interfering with your normal computer operations. Lastly, look at the security protocols put in place by the miner to protect your earned assets.
Subscribe to our Newsletter to be a part of our future $1,000 per month contests.