The cryptocurrency market is a fast-moving sector characterized by high volatility. As a crypto enthusiast, you need to be aware of price movements of different digital currencies. We have a number of existing online platforms that have made it easy to check the price of different cryptocurrencies. Through these platforms, you can even track the performance of different cryptos since inception. Based on such information, you can, therefore, make a sound investment decision. In this article, we take a look at some of the best places where you can check the price of different cryptos.
Coinmarketcap
CoinMarketCap is a leading website that provides data on prices, supply, and trading volume of different cryptocurrencies. When you visit the website, you will see a list of the top 100 cryptocurrencies based on their market capitalization. On every coin, we have a name, market cap, price, volume, 24-hour change, and the price graph for the past seven days. All this information can also be accessed through a mobile app supported by Android and iOS.
All coins listed on CoinMarketCap are usually traded on a public exchange that is older than 30 days and they have a public URL that displays the total supply. Apart from indicating prices, CoinMarjketCap comes with a host of features beneficial for crypto investors. We have data graphs that can be customized to suit beginner and advanced traders. As a popular cryptocurrency database, CoinMarketCap also supports different languages like English, German, Spanish, Filipino, French, Italian, Portuguese, and Turkish. Apart from cryptos, the platform also shows data on different cryptocurrency exchanges.
Coingecko
Coingecko is another website that ranks cryptocurrencies based on price and market capitalization. Upon logging into the website, you will see a list of the top 100 cryptocurrencies at a glance. Alongside each coin, the website provides information on price, price movements within the last hour, 24-hours and the last one week. Additionally, you will see the daily trading volume and market capitalization.
Coingeckpo scrutinizes different coins to provide quantitative and qualitative data through the use of different metric scales. Coingecko is known for constantly updating new coins, a unique algorithm for coin rankings, and ICO details. Apart from cryptos, the platform also ranks and evaluates exchanges platforms.
Coincodex
Coincodex is a digital platform for cryptocurrency market coverage with real-time crypto prices and charts. The platform also serves as a cryptocurrency market capitalization base with over 1000 coins. The website acts as a funnel for information on ICO release dates of various altcoins, and latest happenings in the crypto market.
Coincodex is accessible on both mobile and desktop to give you an easy entry into the cryptocurrency market. Just like the platforms covered above, Coincodex has a list of all the top 100 coins with information on the price change in the last 24 hours and an option to buy your favorite currency. One bonus feature with CoinCodex is the availability of guides on different areas of the crypto world and products to enlighten the masses.
CoinRanking
Among all the areas to check crypto prices, CoinRanking has the simplest user interface that is easy to navigate. Information on cryptos is available at a glance. When you visit the website, you can view the name, price, market value, and price movements within 24 hours of any cryptocurrency. You can also search for any cryptocurrency from the list provided and customize the search results based on metrics like period.
Apart from prices, you can also learn about specific crypto's all-time high, rank, and total supply. Furthermore, the website comes with a market section that allows you to view the best and worst performing coin of the day, the five biggest stable coins and four coins with the most market dominance. The platform is not only limited to a browser but also mobile applications and social media platforms.
CryptoCompare
The CryptoCompare platform is rising in popularity due to its unique features regarding the crypto market. At a glance, you can view the ranking of the top ten coins although you have an option of expanding the list. CryptoCompare offers information on cryptocurrency price, direct trading volume in the last 24 hours, total trading volume in 24 hours, market capitalization, the 7-day trading chart, and the 24-hour percentage change.
The website stands out because you don't have to refresh to view price changes, everything is live and automatic. When there is a drop, the price section of specific coins blinks red. On the other hand, it blinks green when the crypto gains. CryptoCompare has also a list of exchanges alongside their ratings. You can also get information on mining with a profitability calculator to guide you. We also have a review of different crypto wallets and guides to get you started in the crypto sector.
Coins.Live
This is another reliable platform showing real-time cryptocurrency prices. All the prices are streaming live from leading exchanges. Additionally, Coins.Live puts together a volume-weighted average of the cryptocurrency price. Apart from the list of cryptos, you can search, sort, and filter all coins from the search bar. Apart from crypto prices, you can read the latest crypto News and set up your own Crypto Portfolio Tracker. Additionally, the platform is available through iOS and Android applications.
LiveCoinWatch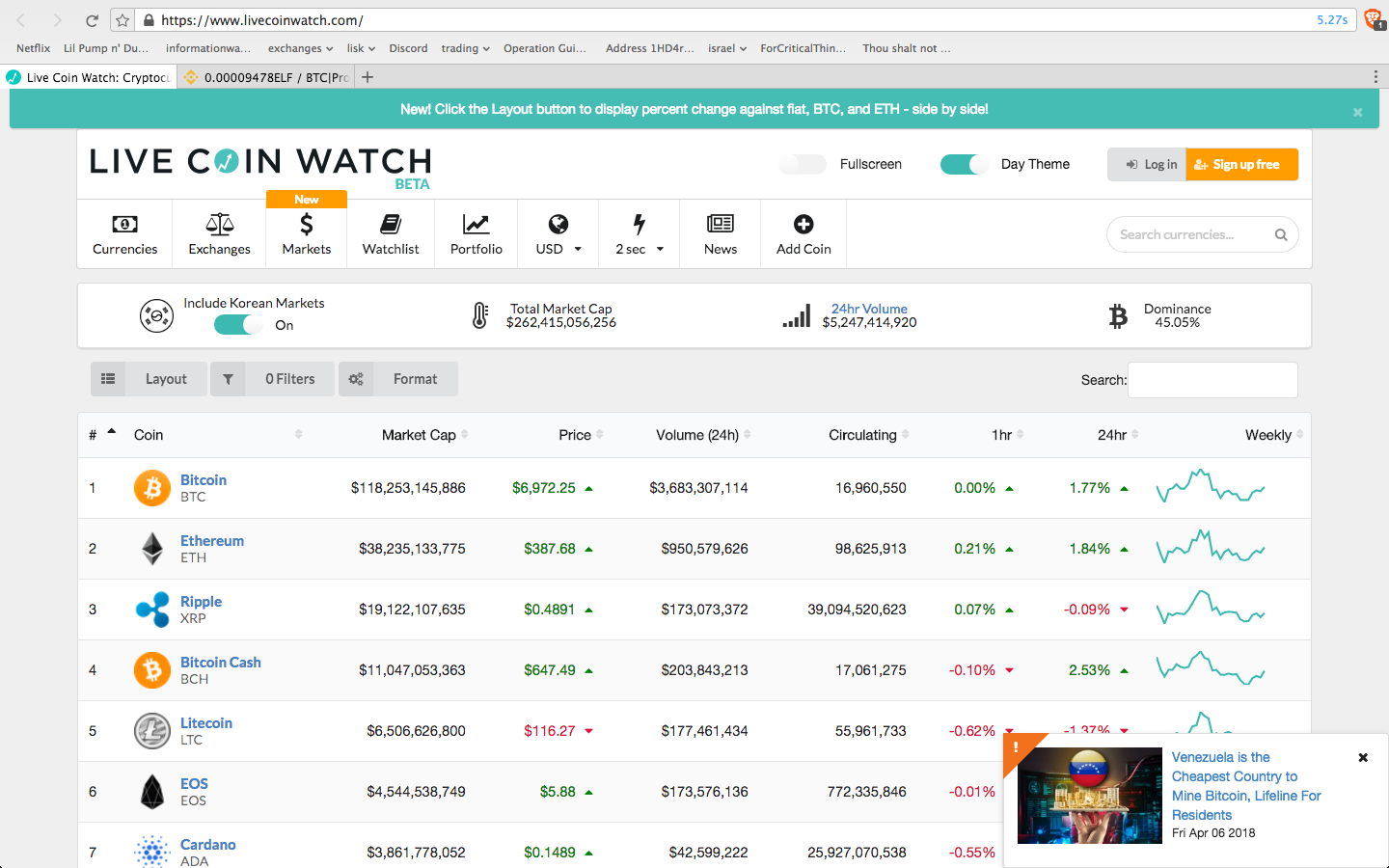 With LiveCoinWatch, you can sample the prices of over 2000 coins alongside 206 trading platforms. Just like CoinMarketCap, LiveCoinWatch tracks market cap, price history, 24-hour trading volume, exchanges among other aspects of the cryptocurrency market. This platform also allows you to create an account and set up your portfolio to track different coins. Navigating the website is easy as we have minimal details where you can adjust the interface based on your preferences.
Prices.org
Price.org is another website for tracking cryptocurrencies with focus on a friendly user interface. Just like the other platforms, Price.org lists the top 50 coins by default with information on name, price, 24-hour price change, 24-hour high, 24-hour low, daily trading volume, supply, market capitalization, and weekly trading chart. The platform also comes with an ICO calendar and latest cryptocurrency news. Additionally, the website has other tools like crypto converter and exchange. Lastly, you can create your own crypto portfolio.
 Conclusion
With the above platforms, you are sure to get the latest crypto prices to guide your trading on various exchanges. Such websites are needed considering the volatility of the cryptocurrency market. Sometimes price differs between exchanges, a fair price of a coin is the average price it is traded on a range of exchanges. This is why you need a platform to always monitor coin prices.
Image source: bitcoinexchangeguide
Subscribe to our Newsletter to be a part of our future $1,000 per month contests.
[mailpoet_form id='1']