The Stellar team exists with a focus on making global money transfers cheaper, quicker, and reliable. The team believes that the current system is not efficient enough. The platform is decentralized and meant to link banks, payment systems, and individuals. Stellar believes that for prosperity, the global financial system should be accessible and open to everyone. To achieve this goal, the Stellar network aims to act as a link between all the involved parties.
Stellar's native token is Lumens (XLM). By press time, the asset was trading at $0.125844 with a market capitalization of $2,441,300,629. This capitalization puts XLM in the 10th position among cryptocurrencies. XLM is a cryptocurrency worth investing in because it has the potential of mass adoption. As a result, there is a need for identifying the best wallet for storing the asset.
Before settling on any XLM wallet, there are several things to look out for. Most importantly, look at the security features of your wallet. Also, look at the backup and restoration capabilities. What will happen to your assets when you lose access to the wallet? Another critical thing to look at for is the development team. If the wallet has a reputable development team, you are guaranteed of good prospects. The team's qualifications should be readily available online. If you are after managing multiple assets apart from XLM, you need a wallet that will meet what you need. Lastly, the wallet should have an efficient customer support system. The team should be easy to access and resolve issues faster.  Even though the market has hundreds of  XLM compatible wallets, here the best wallets for storing Stellar in 2019.
The Ledger Nano S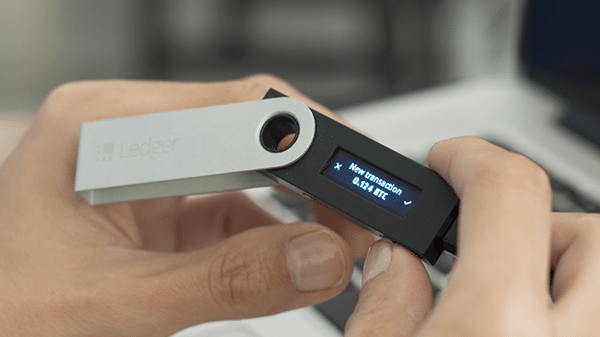 The Ledger Nano S holds the reputation for being the most secure cryptocurrency wallet. Apart from supporting XLM, this hardware wallet is also compatible with other multiple cryptocurrencies, including Bitcoin and Ethereum. All the private keys are stored offline meaning that no hackers can have access to it. Since joining the market, the Ledger Nano S has not recorded a single security breach. In the event you lose access to your wallet, we have a backup restoration feature. The Ledger Nano S has a seed phrase for recovering your XLM assets. Note that, to unlock the wallet, you need to input a PIN code that is only accessible to you.
Accessing the wallet is through a desktop's USB port. To manage your XLM assets, you will need a Google Chrome extension. Back in 2018, the Ledger team launched the Ledger Nano X that offers compatibility with mobile devices. Setting up the wallet is very easy since the process is straight forward with a friendly user interface.
Stellar Atomic Wallet
Stellar (XLM) is a public ledger, payment network that makes financial transactions faster and universal.
A Stellar wallet, on the other hand, enables the access, storage, and management of one's assets using public and private keys. It allows you to buy, send, receive, and exchange XLM. One great available wallet option is the Atomic, which is a desktop and mobile wallet. It is available for all major Operating Systems including Windows, macOS, Linux, Android, and iOS.
Stellar Atomic Wallet Features
It is multi-currency, supporting over 300 cryptocurrencies
Has a built-in exchange
Responsive customer support
Easy to use
Highly secure
No operational costs whatsoever
Compatible with most digital devices
The internal Atomic Wallet Token eases dividends and cashback payments
How to Use a Stellar Atomic Wallet?
Download your OS compatible file from the official website and install it
Run Atomic, create a wallet and set a secure password
Receive 12-word seed phrase and store it safely
Start using Atomic
Guarda Wallet
From the list of best stellar lumens wallets – we can't miss Guarda wallet. Guarda wallet is probably the best free wallet that you can use to store Stellar Lumens (XLM) as well as thousands of other crypto assets. 
Moreover, you can also buy stellar lumens from Guada wallet as they offer this opportunity too due to a partnership with Simplex. The fact that you can use Guarda on your phone,on the website or through a desktop application is another huge plus. 
And finally, the fact that the Guarda wallet doesn't have access to your funds is golden. The non custodial wallet means that you are the only owner of your private keys and you can access your wallet based on those and a few other security measures. 
Foxlet Wallet

The Foxlet wallet is among platforms that have been recommended by the Stellar organization. This is an open source desktop wallet compatible with Windows, Mac, and Linux. The Foxlet wallet redefines convenience since it does not require registration to start managing your XLM assets. In securing your XLM assets, the Foxlet wallet encrypts your secret key and store it as a file locally on a computer. Your account is as safe as the security of your personal computer. Third parties can not, therefore, access your keys.
Foxlet fully supports the federation protocol and even embeds the fed.network service. As an added advantage, the wallet allows you to trade your XLM coins with other cryptocurrencies. It's easy to send and receive XLM from this wallet, and it also provides the option of depositing and withdrawing Chinese yuan (CNY), with all transactions being signed offline. Managing your assets is also easy because the user interface is friendly and easy to operate for both beginners and experienced crypto enthusiasts. On the downside, this wallet only supports XLM alone.
Stargazer
Stargazer is a mobile and desktop wallet also recommended by the Stellar team. On mobile, the wallet is only compatible with Android devices, while on the desktop it supports Windows, Mac, and Linux. Apart from XLM, the Stargazer wallet also supports other prominent assets. The Stargazer wallet is seamless to operate. Whether you are new or have experience in handling cryptocurrencies, then Stargazer will make it easier to send XLM assets. Note that this wallet supports multiple accounts at the same time. The wallet also supports multiple languages, and you can set up federated addresses. On the security side, the wallet is multisig.
LOBSTR
LOBSTR is easy to operate and secure XLM wallet. This mobile wallet comes with an excellent design, simple interface, and tips to help you manage your XLM assets. The wallet is compatible with Android and iOS devices. LOBSTR supports every asset issued on Stellar network: tethered assets, ICO, and airdrop tokens. LOBSTR allows trading of multiple assets from one account.
It has a quick XLM price converter for added convenience. The main question is, how does LOBSTR secure XLM assets. This wallet is unique because, the XLM coins are stored on the Stellar network itself, and Lobstr communicates with the network. This security level is top notch because the network cannot be hacked at all. All private keys are on the wallet. However, note that if you lose your private key, there is no getting it back. The wallet also makes use of 2-factor authentication, fingerprint support, and secure PIN protection.
Astral
Astral is a web-based wallet that ranks high within the Stellar community. It is a convenient way of managing your XLM assets because you can access it from anywhere. You need to sign up to start using this wallet. Note that all eligible accounts will get an automatic enrollment into an inflation pool. The pool allows you to earn bonus XLM every week based on your account balance. Astral's security features include data encryption with AES-256, SSL certification, mandatory 2 Factor Authentification for all accounts using TOTP, and all passwords are hashed with Argon2. Before sending any funds, one must conduct an email confirmation as an added security feature. The wallet offers flexibility since you can set multiple accounts to manage your funds.
Conclusion
XLM has many compatible wallets that offer different security features. We have a desktop, mobile, web, and hardware wallets. However, hardware wallets are the best since they come with an extra layer of security. Before picking any wallet, understand the risks that come with that wallet category. For example, web and exchange wallets are susceptible to hacking. Always conduct some background research before choosing a wallet. Look at what other users are saying and make your judgment. If you liked this, be sure to check out our Best ChainLink Wallets 
Subscribe to our Newsletter to be a part of our future $1,000 per month contests.
[mailpoet_form id='1']