The emergence of cryptocurrencies has led to a revolution in the financial sector. We have blockchain projects that are now focusing on borrowing and lending. These platforms are on the rise as they continue to attract more users. The available cryptocurrency lending platforms ensure you get cash without necessarily losing your digital assets.
Here are some of the leading cryptocurrency lending projects. These platforms come with their own unique features and shortcomings.
BlockFi
BlockFi is the pioneer of cryptocurrency lending. The New York-based firm offers loans to holders of either Bitcoin, Ethereum or Litcoin assets that act as collateral. This means that BlockFi can recoup your assets in the event you don't repay your loan.
How Does BlockFi Work?
Just like a traditional bank, BlockFi has an eligibility criterion for all borrowers. The BlockFi crypto loan requires borrowers to own at least $4000 in Bitcoin, Ethereum, Litcoin or GUSD. All loans begin at $2, 000 and can reach $100, 000, 0000. Furthermore, BlockFi does not require your credit score, monthly income, monthly debt obligation. The firm puts a consideration on your cryptocurrency collateral value.
Note that BlockFi lodges its collateral with Gemini. Gemini is a licensed digital asset exchange and custodian, offering numerous services to individual and institutional clients.
BlockFi Loan Rates and Terms
Interest rates with BlockFi begin at 8% and are determined by the credit score. The rates are based on the amount of collateral placed and the customer's location. Additionally, BlockFi charges a loan origination fee of about 1% to 2% of the loan amount. The loan payment period is capped at 12 months. Borrowers can make only interest payments on a monthly basis using crypto. After the 12 months elapses, the borrower can either pay off the principal in one payment or refinance the loan at the same rate. All borrowers need to monitor the value of the assets they have pledged as collateral. If the value drops, it will set off a trigger event and the borrower will have to add more collateral to maintain the 50% loan to value (LTV) ratio.
Getting Started With BlockFi
To start, visit the BlockFi website and click on Apply Now where you will enter your name and contact details. Click continue and BlockFi will send a verification code to your phone. In the next stage, select your preferred collateral cryptocurrency choice. Then enter your loan amount. You will then select the source of the cryptocurrency you plan on using as collateral and how you plan to use the funds. Enter your date of birth and the Social Security number to confirm your identity. Click submit.
In normal circumstances, BlockFi responds after 24 hours. If your request sails through, you can review the offer and sign the loan agreement. Before any money is wired to your bank, you will have to send the cryptocurrency assets to a secure wallet operated by Gemini.
Pros and Cons
BlockFi offers flexible repayments, a feature that makes it stand out in the market. The platform is also among the few that offers large loan amounts of up to $100,000,000. On the downside, BlockFi has no renewal option alongside a low LTV ratio. Additionally, the service is limiting because it is not available in all the states.
SALT Lending
SALT is a cryptocurrency lending platform that offers loans in cash with digital assets serving as collateral. The firm is run by SALT Lending Holdings, Inc. Borrowers wishing to use SALT services can be holders of Bitcoin, Ethereum, Litcoin, Dogecoin, and USD coin and TUSD coin.
How Does SALT Lending Work?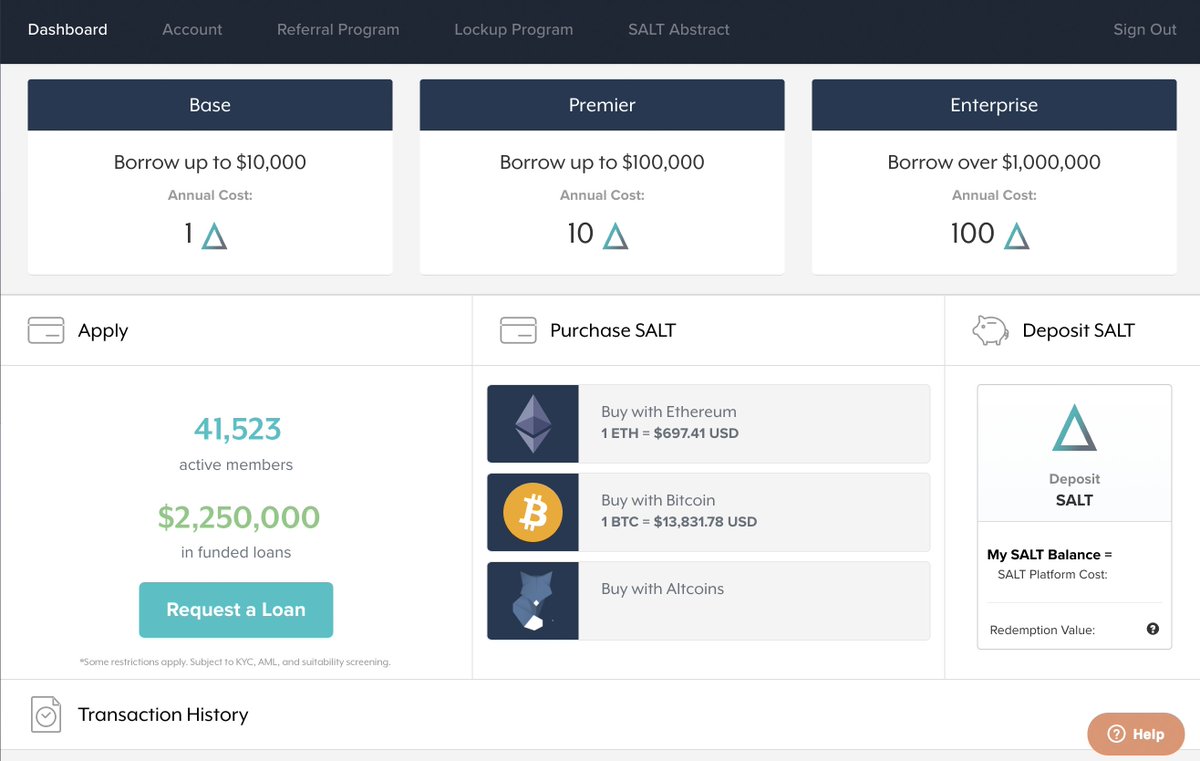 SALT puts much focus on collateral for loans instead of a borrower's credit score. To enhance efficiency. Before using the platform, borrowers need to become SALT members first by signing up using a username, email, password and use the Google Authenticator app. We have the Membership, Premier and Enterprise levels of membership. Under Membership, a borrower qualifies to a loan of $10, 000 payable within 24 months. Premier provides lines of credit with terms of one hour to 36 months with loans of $100,000. Enterprise has the same choice of lines of credit but with metered terms. The loan stands at $1, 000, 000.
SALT Rates and Terms
SALT rates begin as low as 5.99% for loans under $75, 000. Notably, SALT can set tailored options for higher loans. SALT minimum borrowing amount is $5, 000 while the maximum is $25, 000, 000. SALT Lending has a streamlined sign up process. After signing up, you need to customize your loan rates based on the amount to be borrowed and payment period. You will then transfer your collateral guided by the CryptoCurrency Security Standard (CCSS) that stores your assets securely. Upon receipt and approval, the loan is wired to your bank account.
Pros and Cons
Lending SALT has some advantages compared to other crypto lending platforms. The democratizing access to loans means leveraging your cryptocurrencies without liquidation. On the downside, the volatility of the cryptocurrency market means interest rates can spike any time.
Celsius
Celsius is a platform build on the Ethereum network. According to Celsius whitepaper, it seeks to offer revolutionary financial tools that help network members in lending, borrowing and depositing different crypto assets. It eliminates the need for financial authorities such as banks and exchanges. The platform's native token is Celsius Degree token (CEL).
How Does Celsius Work?
Celsius helps users save cryptocurrencies while giving them a chance to borrow against assets, short trade, and hedge their positions at reduced rates. Like other lending platforms, Celsius does not depend on credit scores. It uses the Loan-to-Value Ratio and cryptocurrency collateral (Bitcoin, Ethereum, Litcoin or Ripple).
Celsius Rates and Terms
Celsius borrowers can access low interests of 6.95% for a loan of $10, 0000. Celsius also offers a 33% LTV. Note that, the collateral is calculated as approximately three times the amount of money you want to borrow. Celsius boasts of no hidden fees or extra costs.
Getting Started With Celsius
Accessing a loan with Celsius is very easy. On the application tab, enter your name, then your email address. Celsius also requires your phone number for account verification purposes alongside your country of residence. In the next phase, enter the amount of crypto for collateral. The amount can be as high as $1 million. Next, select your preferred cryptocurrency followed by the loan amount and your desired payment period. You will then submit your request and await communication from Celsius team.
Pros and Cons of Celsius
Celsius has a strong team that has created successful projects. This team will propel the platform to greater heights. On the other hand, being a young project, Celsius might find it hard to earn consumer trust.
Ethlend
EthLend is a lending platform that offers loans on the Ethereum network. Borrowers can get Ether using EthLend's digital tokens that act as collateral. Activities on the platform occur on the smart contracts to ensure transparency. Unlike other services, interest rates and conditions are a subject to the decision by participants.
How Does EthLend Work?
With EthLend the borrowing process is very easy. A borrower enters relevant loan data into a smart contract. The borrower then inserts the digital token address and the number of tokens for collateral. The borrower then transfers the tokens to the smart contract. At this point, lenders go through all loan requests then select the preferred borrower. If loan payment delays, the collateral in the form of tokens is used. To enhance safety, EthLend has reputation funnel dubbed the Credit Token System.
How To Use EthLend
Accessing Ethlend is through the MetaMask Google Chrome plugin. Without the plugin, some pages on the EthLend.io website are inaccessible. The plugin acts as a link between the Ethereum network and the web browser. The plugin gives room to borrow loans or view applied loans.
EthLend Rates and Terms
On all loan requests, EthLend deducts a 0.01 Ether fee. Another 0.01 Ether fee is applied for funding the loans. All the fees charged is for improving the EthLend platform.
Pros and Cons
One advantage of EthLend is the fact that crypto holders can earn extra income by lending the holdings. On the downside, EthLend, only deals with crypto-to-crypto borrowings, neglecting users interested in fiat.
Conclusion
The highlighted projects are setting the pace for cryptocurrency lending. We expect to see more similar blockchain projects considering that the cryptocurrency sector is on course for mass adoption. However, before matching the traditional banking sector, there is a need for tackling some obstacles along the way. The volatility of the cryptocurrency market appears to be the main challenge.
Subscribe to our Newsletter to be a part of our future $1,000 per month contests.
[mailpoet_form id='1']