Bitcoin Mercantile Exchange (BitMEX) is among the most popular Bitcoin trading platforms. The exchange is operating in Hong Kong and registered in the island of Seychelles. By the time of writing BitMEX's daily trading volume stood at over 35,000 Bitcoins. BitMEX is more suitable for professionals and experienced investors. Furthermore, it is ideal for individuals with a background in traditional exchange. Unlike many cryptocurrency exchanges, BitMEX is focused on derivatives trading.
Notably, the market present new crypto investors with a variety of exchanges to select from. If you opt for BitMEX, here are some of the things you need to know.
Getting Started With BitMEX
Creating an account with BitMEX is very easy. Basically, users need an email address to get started. Note that the email address can be anonymous. However, if you are interested in getting updates from BitMEX, then you can use a genuine email address. Furthermore, a genuine email is necessary for confirming your account. You need to provide your name and all users must be over 18 years old to get started. Once your account has been set, you can start trading since we have no limits. However, BitMEX does not accept new users from the United States. The exchange conducts IP checks to crack down on US-based users.
BitMEX Users Interface
The BitMEX website is intuitive and easy to use for traders conversant with the cryptocurrency market. However, new users might need help in mastering the platform as it is beginner unfriendly. The platform is available on both Android and iOS platforms for mobile. However, users are encouraged to use the desktop version.
In comparison with exchange platforms like Coinbase, the BitMEX website appears outdated. After creating an account, all a user has to do in click trade and all the trading instruments will be displayed beneath.
Trading on BitMEX
Once a trader clicks on a given trading instrument an order book opens alongside a history of trades.  The order book has three columns – the bid value for the underlying asset, the quantity of the order, and the total USD value of all orders. Note that BitMEX issues seven types of orders as highlighted below. 
Limit Order. It is the most popular order on the platform. This order allows users to buy or sell at a given price or a much better one for a high profit.
Market Order. This order is placed when the internet connection is reliable. A good connection is necessary because market orders use micro trades which helps users execute the best price on the market within seconds.
Stop Market. A Stop Market order or Stop Order is made when it reaches a specific entered amount on the order tab. The trigger price is what creates the stop market order. It becomes a market order once the stop price is attained.
Stop Limit. It allows the trader to set the price of the order once the price is achieved. If your trigger amount fails to match any orders on the book then your position remains open until it is filled.
Trailing Stop. A Trailing Stop Order is for setting the stop price at a specific amount below the market price with an attached trailing amount.
Take Profit Limit/Market. Take Profit Limit operates just like like a stop order. However, all triggers are set in the opposite direction. Traders only use this order option to set up an exit position or use it as an entry for a new position in the future.
Based on user appearance preferences, they can alter the trading widgets on BitMEX. In short, traders are in full control of the appearance of the website. Furthermore, BitMEX has the TradingView charting which is an advancement compared to rivals.
The BitMEX exchange deploys a system dubbed auto-delivering to ensure that liquidated positions are shut down even when the market is undergoing volatility.  In this scenario, if a position bankrupts without available liquidity, the positive side of the position deleverages in the order of profitability and leverage, the highest leveraged position is first in line.
Supported Currencies
Users on the BitMEXplatform can trade cryptos against fiat currencies including the US Dollar, Japanese Ye, and the Chinese Yuan. Users on the platform can also trade in cryptocurrencies like Bitcoin, Bitcoin Cash, Dash, Ethereum, Ethereum Classic, Litecoin, Monero, Ripple, Tezos, and Zcash.
Futures and Swaps
Another unique feature offered by BitMEX is the futures and swaps. A futures contract is an agreement to buy or sell a set digital asset in the future at an already established price. BitMEX allows users to leverage up to 100x on certain contracts.
On the other hand, perpetual swaps resemble futures, except that there is no expiry date for them and no settlement. Furthermore, they trade close to the underlying reference Index Price.
BitMEX users also have access to Binary series contracts. These are prediction-based contracts only settled at either 0 or 100. The Binary series contracts are a more complex way of making a bet on a given event. Binary series contracts on BitMEX are traded with no leverage, a 0% maker fee, a 0.25% taker fee, and 0.25% settlement fee.
BitMEX Leverage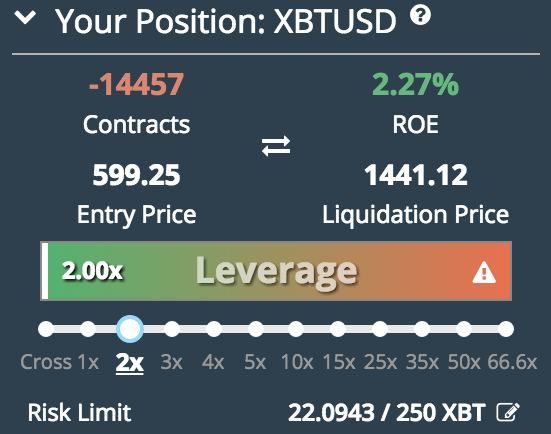 Leverage is the placing of orders that are high when compared to existing user balance. BitMEX enables users to leverage their position using the platform. This means that chances of getting significant profits are high when compared to placing an order with only the wallet balance. Trading in such circumstances is called "Margin Trading."
There are two types of Margin Trading: Isolated and Cross-Margin. Isolated trading allows users to select the amount of money in their wallet that should be used to hold their position after an order is placed. On the other hand, cross-margin enables users to use all their wallet balance to hold their position. It is a risky affair.
With BitMEX users can set their leverage level by using the leverage slider. Maximum leverage of 1:100 is available (on Bitcoin and Bitcoin Cash).
BitMEX Trading Fees
Deposits and withdrawals on BitMEX are free. However, a user will still have to pay fees to the Bitcoin network. BitMEX sets the minimum fee based on network activity. When trading on BitMEX, there are fees associated with each transaction that occurs on the exchange. These fees are dependant on position, funding rate, and contract type. Here are other charges on the platform.
Perpetual Contracts. For perpetual contracts, the charge for Bitcoin with a leverage of 1:100 is -0.0250% for the Maker and 0.0750% for the Taker. Long funding is 0.0100% and short funding is -0.0100%. The funding interval is after every eight hours.
Upside Profit Contracts. For Bitcoin with the leverage of 1x the maker fee is free the same as the taker fee. Additionally, there is also no charge for the settlement fee.
Downside Profit Contracts. For Bitcoin with the leverage of 1x the maker fee is free the same as the taker fee. The settlement fee is also free.
BitMEX Security Levels
BitMEX is among exchanges that enjoy a good reputation when it comes to security. BitMEX has a number of security features to protect user funds. It makes use of the Amazon Web Services to protect the servers with text messages and two-factor authentication. To protect funds, BitMEX has a system for risk checks. This system requires that the total of all account holdings on the website be nil. If it's not, all trading is immediately stopped.BitMEX also comes with email notifications and PGP encryption for all communication.
Customer Support
BitMEX has deployed multiple customer support channels that operate 24/7. Customers can reach out to BitMEX through email and social media platforms. The typical response time from the customer support team is one hour, and feedback on the customer support suggest that the customer service responses are helpful and are not restricted to automated responses. Additionally, BitMEX has a knowledge library under the FAQ section.
Conclusion
BitMEX enjoys a good market reputation. However, the exchange has witnessed complaints based on technical issues. Most clients have an issue with a complex website. The platform is not beginner friendly. BitMEX needs to create an alternative version that is friendly to newcomers. It is still worth trading on BitMEX in 2019 as it provides a wide range of tools. Traders all need to master the tools to enjoy trading.
Subscribe to our Newsletter to be a part of our future $1,000 per month contests.
[mailpoet_form id='1']