Decentralized Applications (dApps) are computer applications that operate on a distributed computing system. The Ethereum blockchain is undoubtedly the king of smart contracts and dApps. Despite the cryptocurrency market experiencing volatility, the same is not for the blockchain sector. Ethereum is the base for over 90% of global dApps and smart contracts. With time, this number is set to rapidly grow. Ethereum dApps can be deployed for various purposes like trading and shopping.
In most cases, Ethereum gambling dApps usually take the center stage. In this guide, we look at top Ethereum dApps under the gaming sector.
Darkwinds
Darkwinds is an Ethereum trading card game that is still in the beta stage.  The game uses the blockchain for card distribution and storage. This capability means that all cards issued in the game are a crypto collectible. The cards are generated randomly in deck packs of 10, 25, and 50. All the cards can be bought using Ethereum.
With Darwinds, players fight against each other in battle arenas. When the development stage is complete we will have leaderboards alongside competitive seasons. A review of the beta stage shows that the players have the full ownership of the cards. Furthermore, the interface offers smooth gameplay. On the downside, the artwork needs to have some enhancement.
Crypto Sim
CryptoSim is already live. Another dApp that runs on the Ethereum blockchain with an MIT software license. This game is considered to be idle. Players assume the role of a whale that pumps or dumps a useless token. Another feature about Crypto Sim is the anti-bot and anti-inflation mechanics. This capability makes it easy for new players since they will regard the game to be fair. Unlike other games, Crypto Sim players usually find it easy at the beginning.
Cryptokoitties
Cryptokitties users have access to a wide range of features on the platform. They can collect, breed and sell different types of virtual cats. Players can also rare unique cats to come up with a perfect furry friend.
Every cat on the platform is unique based on a mix of cattributes. When all these features assemble, the cats get some unique attributes that make them stand out. Each CryptoKitty with a unique look is stored as a collectible non-fungible token.
Some of the rare attributes by the CryptoKitties include mewtations. Such kitties are open to being traded, sold or purchased in a similar manner like other digital assets.
Ethergarden
This is another unique game on the Ethereum blockchain where all players can plant their trees. Each player on Ethergarden is assigned a unique name and url. The players will water the plant to enhance its growth. Once the trees grow taller, players can shrink them by cutting paying through Ethereum.   
The ideology behind the game's concent was inspired by the Crypto High Score. In this case, when a player funds more trees, the taller they grow and the more visible they become. Players looking for visibility have different options. Focusing on making your tree more taller through cutting other players within the garden will give you visibility.
Ember Sword
The Ember Sword game has a real economy anchored on the Ethereum Blockchain. It is a Multiplayer Online Roleplaying Game. Ember Sword users get cosmetics that are tokenized via PvP/PvE gameplay. The cosmetics are then exchanged for PIXEL tokens. Users can also put their assets in the land to become landowners.
Furthermore, players can turn to profitable service and experience. Such services include vendor marketplace where other users purchase in-game subscription among other benefits. One unique aspect of the game is that players can select between peace and war. Furthermore, if you wish to remain neutral, Ember Sword has a place you that you can create.
CryptoGift
CryptoGift is another top Ethereum based game operating on an MIT license. Basically, CryptoGift is an ERC721 collectible token that stores messages within the Ethereum blockchain.  Users can send encrypted messages to close ones on special occasions like birthdays, anniversaries and weddings. The message can be made eternal by encrypting it.
To send a message, select the receiver's name and then write the message. You will then select the amount of Ethereum you want your loved one gifted. Note that even zero Ethereum is accepted. To sign the message, you will need MetaMask. Under the last stage, you will copy and share the CryptoGift links and encrypt to avoid tampering. The message can only be read by individuals who have its key.
Etheremon
When you want to have monsters in your gaming application, then Etheremon is the game for you. It is another top Ethereum dApp that allows users to capture, train, transform, and trade monsters with others. Basically, this game is a unique combination of the Blockchain and Virtual Reality technology.
All users on the platform get an unprecedented gaming experience. It is the first global game where you own the assets which no one can influence or steal from you and see them operate like in the real world.
MyCryptons
MyCryptons is another fungible token hosted by the Ethereum blockchain. The approach of developers was to have a combination of digital collectibles, political expression, social media interaction and games all in one.
The game is aesthetically appealing considering that a Crypton is represented by a distinct hand-crafted image. Furthermore, it is accompanied by a short edgy tagline that can be customized and shared. It is one of the games with a clear earning model. If the value of Cryptons rises, owners will be able to profit by sharing all the game revenue.
Eth Town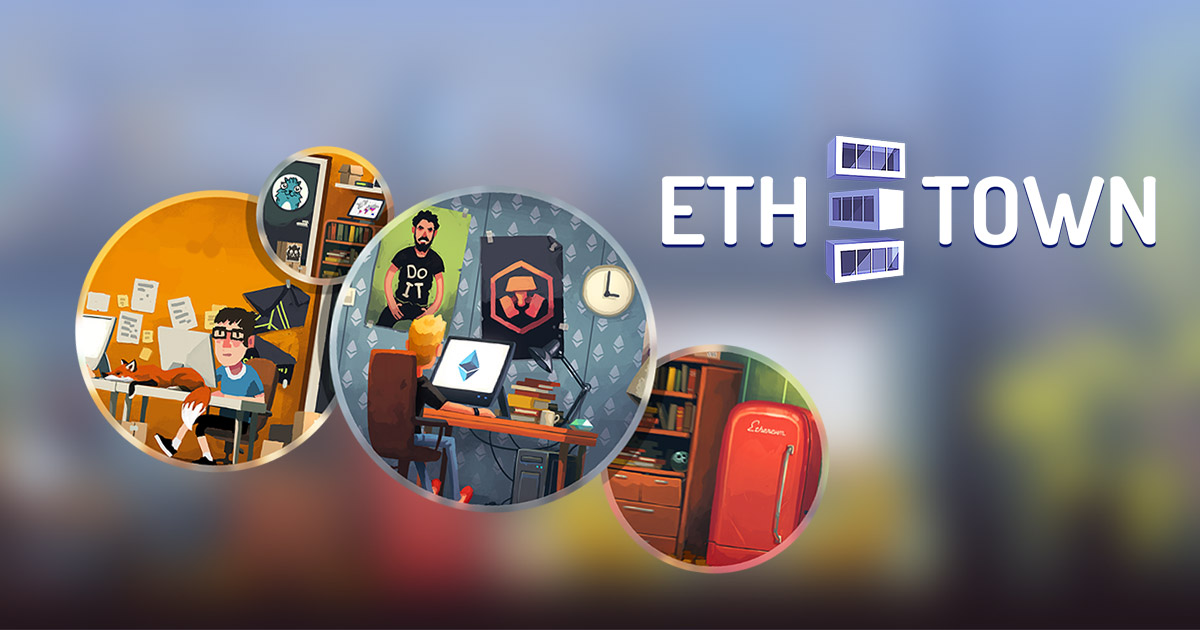 Eth Town is a fast-rising Ethereum based game. Players begin as property investors. You are then required to strive and rise by outplaying and strategizing carefully.
At some point, you will be able to benefit from all the actions of other participants. However, you have to meet certain conditions. Along the way, the game mechanics will be rational and fun.
EtherStocks
EtherStocks is a fantasy stock game,  that allows players to buy and trade different stocks. However, this game comes with a warning. All players are cautioned against playing with amounts they are not willing to lose. According to developers, the game has unlimited potential when it comes to the blockchain.
Conclusion
With every passing moment, the Ethereum blockchain is used to develop games that aim to disrupt the market. The covered games are not exhaustive but they are showing signs of taking over the gaming sector.
Subscribe to our Newsletter to be a part of our future $1,000 per month contests.
[mailpoet_form id='1']