What is cryptocurrency pool mining? 
In the early years of bitcoin, anyone could mine effectively with a CPU. However, as the market grew, so did mining technologies. Now, it is unprofitable to mine with a CPU as there are faster, more efficient, and expensive technologies in the market that dedicate all their resources to crypto mining.
To find a way around this, individual miners can join a mining pool or they can utilize other people's computing power to mine for them. This trend now have the name of  Cryptojacking. Which means that you'd use someone else's computational power in order to gain cryptocurrency.
But smart people found better ways to acquire cryptocurrency – such as cryptocurrency pool mining. This allowed them to mine cryptocurrencies easier than before.
What Is A Mining Pool?
A mining pool is a network of crypto miners who agree to share their computing power in order to create new blocks and split the reward according to the contribution of each miner. The two major types of reward payment method of mining pools are:
Pay Per Last N Shares (PPLNS): this payment method factors in the contribution or shares of a miner to the successful creation of blocks. As such, the miner's reward depends on the success rate of the mining pool.
Pay Per Share (PPS): this payment only factors in your contribution or hash power regardless of the success rate of the mining pool. Payments in this model are fixed
MinerGate
In 2014, the first mining pool MinerGate was launched. It supports the aforementioned payment methods. This mining pool can be used by anyone by just downloading the software as it has a user-friendly interface. However, the simple interface is a mask for a more complex algorithm in the background which permits cryptocurrency mining. Over the years, a lot of developers created their own software – offering benefits for the users using them.
We will be taking a look at other mining pools that have been able to provide better quality services than MinerGate have delivered over the years.
WinMiner Mining
Image Source: Btcnewspaper.com
WinMiner is among the most complex miners out there. The team managed to get an amazing number of over 180,000 users and right now its holding the pre-sale to its ICO. The app have over 1 billion installs according to their website, and it use a special software in order to make their users earn more with their computing power.
The payouts from WinMiner can be obtained in: BTC, BCH, ETH, LTC and AION. Besides this, they also have a part where they can issue FIAT payouts in: Amazon Gift cards, iTunes and Payeer. They have a massive list with supported cryptocurrencies to mine as well as a low minimum withdrawal of $10. Best part about it?
It have an Auto Mode that will detect and mine only when the PC is idle, otherwise the app would stop.
NiceHash Mining 
NiceHash is one of the biggest cloud mining platforms in the market. Individuals can rent out their computing power to miners for bitcoin. In addition, users can decide to mine themselves by utilizing any hashing algorithm. The mining pool charge 5% on every payment or transaction. But the most important thing its their mining software – allowing users to mine cryptocurrency using their Laptop or PC or even Rig/ASIC.
Image source: Cryptomining blog
Nicehash offers a great way to start mining cryptocurrency with your laptop. Their mining application is designed so you can calculate how much $ per day you would earn mining a certain algorithm. More than this, with Nicehash you can also make a few settings so your CPU or GPU won't suffer in time. You can set up a few mining limits so you won't broke your PC while mining.
Nicehash was the best option to mine cryptocurrencies with your PC, until they were hacked and the attackers stole a lot of money – money that belonged to the users. Since then, Nicehash lost their credibility and a large part of their user base.
HoneyMiner Mining 
Image Source: Honeyminer
One of the most recently launched mining apps, HoneyMiner, made their launch on the cryptocurrency mining apps industry. Their software is an XP based one, where you are rewarded for referring your friends and mining with your PC.
Their algorithm is making sure your PC will mine only the most profitable cryptocurrencies so your income would clearly see an increase. The miner is also very user-friendly and they store the cryptocurrencies in cold storage, giving users a certain security level.  You cannot choose what cryptocurrencies to mine with HoneyMiner, neither how you want to receive the payment – the only accepted way of withdrawal is BTC – but, the app itself is amazing and they soon plan to launch the HoneyMiner Pro.
Computta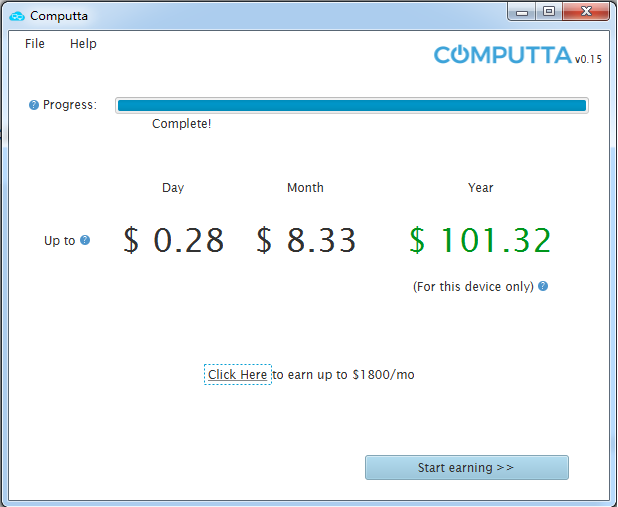 Computta's vision is to make the mining process efficient and smooth by eliminating any barriers along the way. As a result, the developers have invested in user-friendly software that is easy to operate for both beginner and experienced miners. Computta is a good NiceHash alternative due to its simplicity. This mining platform is automatic thanks to the smart solutions incorporated in the system. The installation process is quick and takes only five minutes to get started. Note that earning as converted into Bitcoins by default. Computta is also unique because it has a referral package. Users get to earn by referring to their friends.
Computta Smart Miner works in the background of the computer and does not affect your computer's normal operations. There is a Smart Mode that is turned on when your computer is idle. You can also customize the software operations through the advanced settings section.
Kryptex Mining
Image Source: MiningBitcoinGuide
Kryptex is one of the most easy-to-use miners software. This allows you to mine with your PC certain cryptocurrencies and get paid in BTC, USD or any other currency. The app is available only on windows and its using the computing power of your PC to mine cryptocurrencies.
We don't recommend to keep it on 100% of the time. The best option would be to leave this app open when the PC is on idle. Kryptex also shows some statistics about how much would you earn with your PC per month.
A regular PC with a Intel Core I5-4430 and AMD R7 370 can earn about $25 per month, while a hardcore PC with Intel Core I7-6700 and 2x AMD R9 390X can earn about $150 per month. But these are only some stats and these might be outdated so the best option would be to test it yourself. You can do that by downloading the Kryptex app here.
Awesome Miner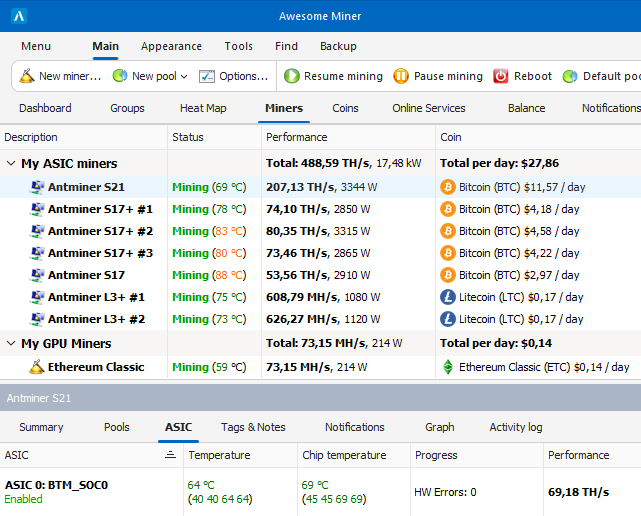 Awesome Miner is accessible through a web interface and Windows application. The miner is a perfect NiceHash alternative since the mining process is instant. You don't need to sign up to start mining. The platform supports mining of over 40 cryptocurrencies. Additionally, Awesome Miner has full flexibility to add any custom mining software, algorithm, and mining pool. Awesome Miner has a profitability switching system which depends on real-time multi-pool statistics and various coin parameters to give maximum mining returns. Despite having a cluttered user interface, Awesome Miner uses the native overclocking feature to control the clock speed, voltage, power and fan properties of your GPU's. The clocking can also be performed via the remote control of MSI Afterburner. The Awesome Miner is one of the oldest Nicehash alternatives on the market and it probably deserves a test to make a comparison between nicehash profit and awesome miner one.
Conclusion
The introduction of mining pools to the crypto space has directly contributed to the `decentralization of cryptocurrency mining. However, before joining any mining pool, it is important you consider the payment methods, the transaction fees, as well as, the features/functionalities of such a pool.
Mining apps such as the ones mentioned in this article makes it easy to earn a few bucks a month mining cryptocurrencies. But don't expect to get rich overnight, there are people investing hundreds of thousands of dollars per month to buy mining devices. A normal PC can earn about $30 per month – which in the future may be $90 or $10, there's no guarantee.
Image source: ctvnews
Subscribe to our Newsletter to be a part of our future $1,000 per month contests.
[mailpoet_form id='1']