Bitcoin arbitrage is the process of buying Bitcoins on one trading platform and selling them at another, where the price is higher. In simple terms, it is taking advantage of the fact that different exchanges will have different prices for Bitcoin, and it can be used to generate profit. Trading Bitcoin and other cryptocurrencies is a risky affair. Prices can change and it is challenging to correctly predict the price at a given time. However, if you understand the Bitcoin market, you can read signals and trade your Bitcoins based on what might happen. This approach is a gamble but can make you some money in the end. With Bitcoin arbitrage, you can make a profit from trading Bitcoin without worrying about volatility that can lead to loss of money. The process of Bitcoin arbitrage is quick and safe.
What You Need For Bitcoin Arbitrage Trading
Before taking part in Bitcoin arbitrage, you need to have accounts at more than one exchange. This will help you take advantage of low and high prices at different exchanges. Note that the higher the price margin between the exchanges, the more profit you will make in the end. Additionally, the more exchanges you are signed to the better. Furthermore, you will need to have some funds in the accounts either fiat or Bitcoin. However, it will be much easier if you have funds available in both currencies.
How To Do Bitcoin Arbitrage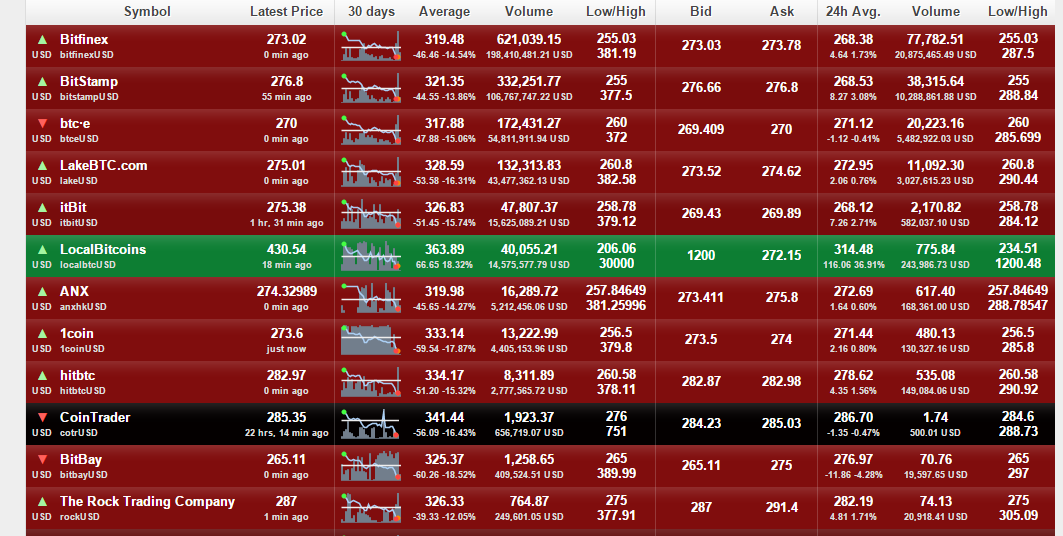 The idea behind Bitcoin arbitrage is simple. You review the different Bitcoin exchanges and find differences in prices in terms of what one market is selling for and what one market is buying for. You will then pay for Bitcoins in the first exchange and then withdraw the Bitcoins. You will then transfer the Bitcoins to the second exchange that's selling the Bitcoin for a higher price. Then you sell the Bitcoin and withdraw cash in the currency you're using.
While taking part in Bitcoin arbitrage, note that if the variations in prices between exchanges are small, chances of losing money are high once the fees for your trade comes off. It is best to know what your fees are going to be beforehand so that you can factor into your calculations. While doing your calculations factor in various fees available at different stages. We have the fiat deposit fees, fiat withdrawal fees, Bitcoin deposit fees, Bitcoin withdrawal fees, and transaction fees. All these fees will have an impact on your overall profit at the end of the day.
Trading Bitcoin arbitrage sounds easy on paper but can be challenging to start. There is a lot of information process and it requires a lot of time to settle on a proper offer. This can be challenging for starters. However, the market has a number of tools that can help beginners navigate the Bitcoin arbitrage venture with ease. We have tools like ArbiTools that are easy to use. Notably, before retaking part in Bitcoin arbitrage it is advisable to conduct thorough market research to avoid falling for scams.
Factors to Consider Before Taking Part in Bitcoin Arbitrage Trading
As seen above, Bitcoin arbitrage involves searching for opportunities in more than 220 exchanges. Additionally, we have over 6000 cryptocurrencies pairs. However, before taking part in Bitcoin arbitrage process, you need to check the following
Find out how much you can purchase from one exchange and what you can sell on the other exchange. The prices should suit your balance. It is important to check the status of wallets on both the exchanges before any transactions. Look at the security levels on both exchanges. In some cases, it might turn out that you cannot withdraw or deposit the purchased Bitcoin.
Also important to note is the transfer cost. Go for exchanges that have fewer transfer costs since it directly affects your profits at the end of the day. Also, consider the time of transaction. Timing is a key component of arbitrage trading and when the transactions are slow, then it becomes a challenge to make significant profits. The transaction time should be quick since the market is highly volatile. In other words, there is only a small window of opportunity that traders can take in order to get the best possible outcome.
Bitcoin Arbitrage Trading Drawbacks
When taking part in Bitcoin arbitrage, you might encounter a number of setbacks along the way. Here are challenges you are likely to face;
In the course of the Bitcoin transfer, the prices might change on the exchange you are transferring to. This is a slight draw but can definitely affect the profit margins at the end of the day. You will encounter small losses.
Another drawback is about the transfer time. In some cases, the transfer period can take several days. To avoid this challenge, use the cryptocurrency explorer to check the average confirmation time and how many confirmations are required by the exchange receiving your transfer.
You also need to take a look at the transaction volume on both exchanges. Transaction volume needs to be high enough to satisfy orders of buying and selling. Keep in mind that price differences can also reflect technical issues or reputation issues of an exchange.
Lastly, you might come across Bitcoin scams. Scam range from unscrupulous sites and people marketing Bitcoin arbitrage while concealing the negative side of it. We have online platforms that will tell you can earn an easy 15% percent per month doing Bitcoin arbitrage. Such platforms are not credible. However, with sufficient research, you will be on the safe side of Bitcoin arbitrage trading.
Conclusion
Bitcoin arbitrage is a simple process from a glance. However, it is important to understand what you are signing up to. Note that you will encounter hefty fees associated with converting bitcoin from Bitcoin to fiat and the real-time transactions. To navigate these challenges, you need to conduct sufficient research before plunging into the world of arbitrage trading.  Arbitrage is a positive process, unlike speculation, and margin trading. Arbitrage helps bring the exchanges together to the same page. Overall, Bitcoin arbitrage can be a perfect opportunity to make some passive income.
Subscribe to our Newsletter to be a part of our future $1,000 per month contests.
[mailpoet_form id='1']