What is Chainlink – A small description of the Chainlink ecosystem
Chainlink is a decentralized blockchain oracle service that acts as middleware that seeks to link smart contracts across the blockchain. The platform enables smart contracts to access off-chain resources such as data feeds, web APIs, and traditional bank account payments. The Oracle service is vital because it provides external information on the blockchain. Typically,  blockchains cannot access data outside their network. Participants on the Chainlink network get rewards for providing smart contracts with access to external data feeds.
The Chainlink Network comprises of two separate parts, on-chain, and off-chain. The on-chain component separates oracles based on the metrics requested by a party to a smart contract through a services level agreement (SLA). Chainlink gathers the responses of the oracle to the SLA queries, sorts them by deploying reputational and aggregation models and offer the collective final result of the Chainlink query. On the other hand, the off-chain part is made up of oracle nodes that are linked to the Ethereum network. The Ethereum network independently harvests responses to off-chain requests.  To compensate the off-chain needs of the Chainlink system, node operators earn through LINK tokens.
LINK is also the native cryptocurrency for Chainlink network. The LINK token uses Ethereum's smart contracts to offer live, peer-to-peer, decentralized, secure, platforms for users. Users can earn LINK by selling off-chain services and data via an API linked to the Chainlink Network to become an oracle node. On the other hand, LINK can be traded on popular exchanges like Binance.
Top Chainlink Wallets in 2020 – The Best LINK Cryptocurrency Wallets 
Ledger Nano S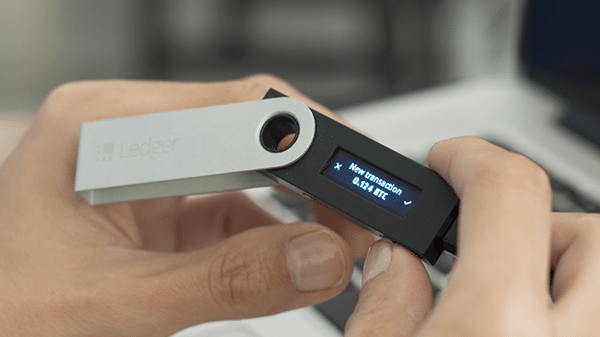 The Ledger Nano S is among the most secure hardware wallet. The Ledger is a versatile wallet that supports multiple cryptocurrencies like Chainlink, Bitcoin, and Ethereum.  The Nano S has two physical buttons that are pressed simultaneously to verify transactions. In case the wallet is lost, your digital assets are still safe due to the PIN code feature making it one of the best wallets to store LINK tokens. The Nano S has a built-in OLED screen that allows you to check the transaction details. Furthermore, the wallet has a two-factor authentication feature. To access the wallet's interface, you will need a computer USB port and a Google Chrome extension. The setup process is straightforward, while the interface is also seamless to navigate. You can also manage your Chainlink tokens via mobile courtsey of the Ledger Nano X
Trezor Wallet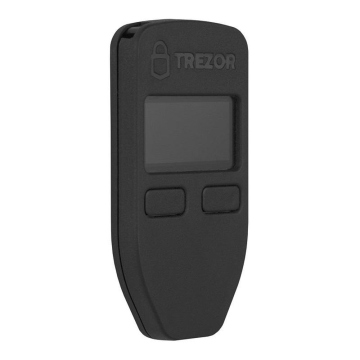 The Trezor wallet is another leading hardware wallet in the same league with the Ledger Nano S. Apart from Chainlink compatibility, Trezor also supports other cryptocurrencies like Bitcoin, Bitcoin Cash, Ethereum, XRP among others.  From a security point of view, Trezor has the advanced cryptography, buttons, and a built-in screen that lets you manually verify all transactions and secure PIN protection. The OLED screen also shows a randomly generated nine-digit pin code and a 24-word recovery seed. Additionally, Trezor allows you to back up your wallet for easy recovery in case you lose it. Just like Ledger, you can access the wallet's interface via a computer's USB port.
CoinBox Wallet 
Coinbox Wallet is another great option to keep your LINK on. In addition of the user friendliness of the wallet, which is above the vast majority of other wallets out there, it also support over 100 cryptocurrencies and all the ERC-20 tokens. This offer users the ability to buy, hold or sell over 1,500 cryptocurrencies. CoinBox is best describe as a cloud-based mobile and desktop crypto wallet with a great speed, extremely good security and convenience to buy cryptocurrencies. More than 750,000 wallets created and over 12,000 transactions per day, put CoinBox in the top best wallets to keep your LINK on. Besides the fact that you can use the wallet on the Android and iOS, you can also use the browser version of the wallet. Another important thing worth mentioning is that CoinBox is the first app in the world that made trading available from the Apple Watch .Coinbox wallet is also supporting 35 languages and it has a one of a kind referral program – where you can win up to  45% of your friend's transactions.
KeepKey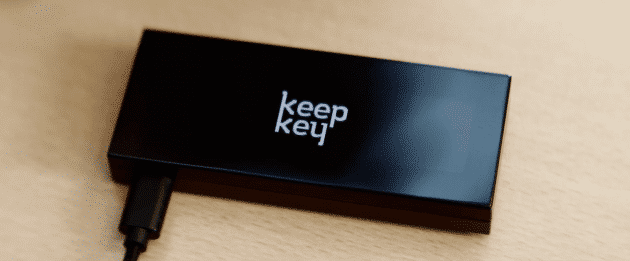 Keepkey is a new hardware wallet with excellent security features. Apart from Chainlink support, KeepKey is also compatible with other assets like Bitcoin, Ether, Bitcoin Cash, among others. Setting up the wallet is similar to other hardware wallets. You need a USB port and download the KeepKey client from the Chrome Web Store. In the setup process, the wallet allows you to set up PIN protection and to write down your recovery phrase. In the KeepKey interface, you will be able to swap Chainlink with other tokens powered by ShapeShift. Recently, Keepkey was acquired by ShapeShift exchange.  KeepKey also has a passphrase feature that allows users to select an additional word as part of the recovery sentence. However, KeepKey discourages users against using the passphrase feature unless they understand the consequences of doing so.
MyEtherWallet
MyEtherWallet is a web-based wallet that supports all ERC-20 based tokens including LINK. The wallet offers additional security layer because it can easily work with both the Ledger Nano S and Trezor. MyEtherWallet is the best Chainlink wallet because all data is stored locally, and since it is open-source, it allows users to monitor any suspicious code changes. In this case, when you set up a new wallet, you are responsible for safely backing it up. Additionally, MyEtherWallet allows you to swap your LINK tokens within the wallet thanks to a partnership with Bity, Kyber Network, Changelly.
Coinomi
Apart from Chainlink support, Coinomi wallet supports popular assets like Litecoin, Ethereum, and Bitcoin. This wallet is compatible with different platforms like Android and iOS mobile devices and Windows and macOS on desktop. As one of the best Chainlink wallets, Coinomi is multilingual with support for various languages like English, Chinese, Spanish, French, German, Russian among other languages alongside a 24/7 customer support.
Exodus Wallet
 
This is an ideal Chainlink wallet due to compatibility with both desktop and mobile. Exodus has a unique user face that lets you efficiently manage you LINK tokens alongside assets like Bitcoin, Ethereum and BitcoinCash. To use Exodus on PC, you will either need Windows or Linux operating systems while on mobile, it is compatible with Android and iOS devices. To secure your LINK assets, Exodus allows you to store your private keys on your device locally. We also have a one-click recovery system. As an added security feature, Exodus is compatible with the Trezor wallet, a popular hardware wallet. Exodus also comes with an inbuilt exchange powered by ShapeShift. The wallet boasts of an efficient customer care support system that is available 24/7.
MetaMask
MetaMask is a leading ERC-20 based token wallet with support for Chainlink. This wallet enables users to manage LINK tokens through a Google Chrome extension, Firefox, Opera, and the new Brave browser. As an HD wallet, MetaMask offers a mnemonic phrase that you can keep as a backup. Additionally, MetaMask has a secure identity vault, providing a user interface to manage your identities on different sites. Most importantly, MetaMask is a platform that also acts as a bridge allowing users to run dApps within their browsers without using a full Ethereum node.
Conclusion
The value of LINK is expected to grow, considering the solutions the network offers. Therefore, if you plan to invest in this asset, the above-listed wallets are ideal. However, note that the market has numerous wallets that support LINK. Before settling on any, conduct due diligence and find the one that suits your needs. Most importantly, consider the safety of your assets. It worth noting that the market has scammy projects. As an extra security measure, hardware wallets are the best since they are hacker free. Be careful with a web wallet and use Brave browser for extra privacy.
Subscribe to our Newsletter to be a part of our future $1,000 per month contests.
[mailpoet_form id='1']