Lіtесоіn is a рееr-tо-рееr сrурtосurrеnсу аnd open ѕоurсе software project that has been gaining popularity recently. Technically, Litecoin has similarities with Bitcoin, however, the former is quicker and cheaper. The average block mining speed in Litecoin is 2.5 mins unlike Bitcoin's 10. Litecoin has been having a great year with the price soaring higher. By the time of writing these articles, Litecoin was trading at $112.56 with a market capitalization of $7,180,038,955. The asset has been on a bullish return making it an ideal cryptocurrency to invest in.
Litecoin's good performance can be tied to the upcoming August halving. Generally, cryptocurrencies tend to perform better as they gear up towards any halving event. Litecoin's halving is set to happen in August 2019 where the miner rewards will decrease by half from 25LTC to 12.5LTC. Litecoin's halving usually occurs every four years after 840,000 LTC blocks. With the impending Litecoin supply drop, there is pressure on price. Based on Litecoin's projected rally, many enthusiasts will be looking forward to owning the asset and the need of holding the asset securely arises. We look at the best Litecoin wallets.
Litecoin wallets
Litecoin is compatible with a variety of wallets. The asset works well with desktop, mobile, hardware, web wallets, and paper wallets. Before settling on a wallet, look at the security features. Furthermore, ensure the wallet is easy to use. Here are some of the best Litecoin wallets in 2019.
Ledger Nano S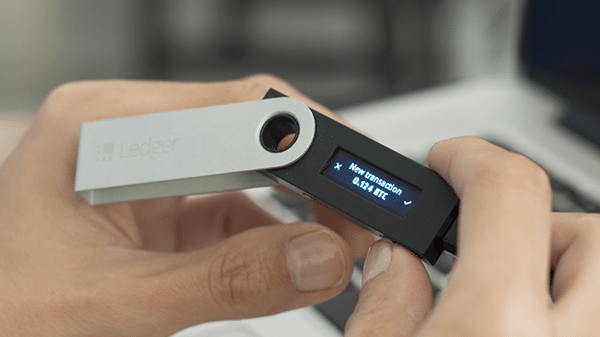 The Leger Nano S is the most popular hardware wallet based on a host of unique features. Apart from storing Litecoin, the Nano S is compatible with other assets. To manage your Litecoin assets, you can access the wallet through a USB port. Making payments and sending Litecoin is done through a Google Chrome extension. Recently, the wallet's creators made it easy to manage your Litecoins through a mobile application. The Nano S has two physical buttons that are pressed simultaneously to verify transactions with a PIN code feature. Furthermore, the wallet has a two-factor authentication feature. These capabilities make The Ledger Nano S one of the best Litecoin wallets out there.
Litecoin (LTC) Atomic Wallet
A Litecoin (LTC) wallet is an application that enables you to securely interact with your cryptocurrencies (LTC specifically) online. It stores your private and public key which is used to access your digital coins. There are many types of LTC wallets available in the market today, one of which is the Litecoin Atomic wallet.
Atomic is a desktop and mobile wallet, available for all major Operating Systems including; Windows, macOS, Linux, Android, and iOS.
LTC Atomic wallet features
A decentralized multi-currency wallet that supports over 300 cryptocurrencies
User-friendly interface
Compatible with any digital device
High level of security
No operation costs
Has a built-in exchange
Over 24/6 live support
Has an internal Atomic Wallet Token (AWT) used for dividends and the cashback program
How to Use an LTC Atomic Wallet?
Go to the Atomic official website and download your OS compatible file
Install the app and run it
Set a secure password
Note the 12-word phrase and store it safely
Explore and enjoy the app
Guarda Wallet
With the halving done and the value of LTC increasing, its mandatory to store it safe. And safe is the way Guarda wallet does it. With a wallet that is non custodial, an interface that can be accessed either from any mobile device or through the web, Guarda has become one of the best multi cryptocurrency wallet since their launch in 2017. 
The company added a lot more perks from their user since then. You can now instant exchange cryptocurrency on their platform, buy more crypto or even generate your own token. 
More than 200 positive on Trustpilot acknowledges the value of Guarda wallet. And what's even better is the fact that you can always purchase more LTC through Guarda. Yes, they also have an option where you can buy more LTC with your credit card. Give it a try and see how easy to use and secure it is. 
Trezor
Trezor is another leading hardware wallet. This wallet is among the best Litecoin wallets based on unique security features. Trezor has two leading models, The TREZOR One and the TREZOR Model T which are compatible with Litecoin. Unlike the Nano S, Trezor is small and easy to carry around. To secure your Litecoins, Trezor wallet is backed up by a 24-word seed which is generated using RNG from the device and computer. Furthermore, we have a PIN code used for spending funds.
Jaxx
This wallet supports multiple cryptocurrencies among them Litecoin and Bitcoin. Also known as Jaxx Liberty, the wallet works perfectly on desktop and mobile devices. The wallet has a user-friendly interface that is easy to navigate. Jaxx allows you to exchange your Litecoin assets within the app courtesy of ShapeShift. With Jaxx, your Litecoin is protected based on the fact that the developers do not have access to your private keys.
Abra
With Abra, you can manage your Litecoin directly in your Android and iOS devices. Apart from Litecoin, the wallet also supports more than 50 cryptocurrencies. Abra is a non-custodial wallet, which means that you will be the owner of your funds and keys the entire time. Users of this app can make investments in 70 other different assets, as well as trade between them instantly and without fees. Note that all your balances of any currency on the app (with exception of BCH and LTC) are actually being held as Bitcoin. When you choose to denominate certain parts of your account as different currencies, these are then fixed to that price rather than Bitcoin's price. Abra also allows you to make Litecoin payments directly from the wallet through bank wire US American Express cards (AMEX), and Teller.
Exodus
Exodus can be ranked as one of the wallets with the best user interface. To manage your Litecoin through Exodus, you will need a Windows, macOS or Linux compatible desktop. The wallet is also compatible with other 100 plus digital assets. The Exodus wallet is ideal for both new and advanced users. If you are new to Exodus, the wallet hides the complex details while you exchange your Litecoin behind the scenes in seconds. From a security perspective, Exodus encrypts private keys and transaction data on your device. Note that to start using Exodus, no registration or account setup required.
Exodus stands out because it allows users to exchange Litecoin without leaving the GUI and within seconds. Additionally, Exodus wallet has 24/7 support. Recently, Exodus launched a mobile application with similarities to the desktop wallet.
Litecoin Core
Litecoin Core is a desktop wallet with Litcoin's full node. This wallet is ideal for all Litecoin fans because it helps in verifying transactions without depending on third parties. The wallet is run and maintained by the Litecoin Development team. Note that the wallet consumes a lot of space because it stores the entire Litecoin blockchain. However, the wallet is not rich in features, but it provides a high level of security as the private keys will be created and stored on your device.
Liteaddress.org
Liteaddress.org is a perfect way to store Litecoin using a paper wallet. To create your wallet, visit the website and generate your public and private keys. After having the keys, you will then write it down on a paper and keep it safe. Unlike other wallets, Liteaddress.org is a good and safe hardware wallet alternative. However, you need to take precaution and store the keys safely to avoid unauthorized access.
Coinomi
Coinomi is another perfect wallet to store your Litecoin. This wallet is compatible with Android and iOS mobile devices. On PC the wallet is compatible with Windows and MacOS. Coinomi has the Hierarchical Deterministic Wallet logic feature that enables you to secure your Litecoins. The wallet is also multilingual with support for English, Chinese, Spanish, French, German, Russian among other languages alongside a 24/7 customer support.
Edge Wallet
Edge is a mobile wallet with an intuitive interface to help you manage your Litecoin assets smoothly. The wallet secures your Litecoin through automatic client-side encryption. This means that your Litecoin keys are always encrypted and protected from malware. Unlike competitors, the wallet works well even when the Edge servers are down. This feature is powered by the connectivity to multiple public Litecoin nodes Furthermore, Edge has transaction tagging, multiple wallets per account make the power users happy. The familiarity of a username & password hides the complexity of cryptography and synchronization.
Conclusion
Litecoin is a cryptocurrency in focus with many enthusiasts gearing to purchase it ahead of the halving event. If you are planning to hold Litecoin soon, it is advisable you go for a hardware wallet due to great security features. However, before picking any Litecoin wallet, always conduct sufficient research to avoid settling for scams. If you pick a web wallet, make sure you're using Brave Browser for a maximum amount of privacy.
Subscribe to our Newsletter to be a part of our future $1,000 per month contests.
[mailpoet_form id='1']